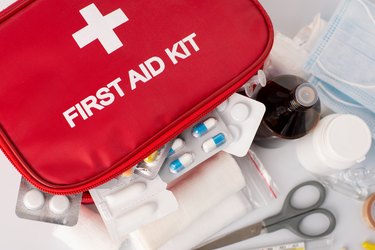 If you live in an area that's prone to earthquakes, you need to protect yourself by being prepared. Pack a comprehensive emergency kit for your home with enough supplies to last each member in your household at least three days. Also pack smaller kits to keep in your automobile and workplace.
Every household should have the emergency supplies on hand. Keep the items stored together in a place that's easily accessed by everyone in your household. Although it seems like a large number of items, careful packing can fit a surprising amount into a small space. Plastic bins keep items clean and organized, and they are easy to tote if evacuation becomes necessary.
This home survival kit envisions a worst-case scenario in which a major quake renders food, shelter and medical care temporarily unavailable. Remember that such a scenario may involve partial or complete destruction of your home, so these items should be stored so that they will be easy to find, not scattered around a house that may no longer be easy to access. It is a good idea to store such a kit near the front of the garage or in a backyard shed or outbuilding where the items will be easy to reach even in a worst-case scenario.
If you live in a region where minor quakes are more likely than a major disaster, you can downgrade the kit to the items that are most likely to be necessary.
First aid kit: A complete kit or one you've assembled on your own (stored in a fishing tackle box or tool box to keep contents dry and portable)

Water: 1 gallon per person per day for a minimum of three days for drinking and washing
Food: at least a three-day supply of nonperishable food items for each person.

Can opener (manual)
Radio: battery-powered or hand crank with NOAA weather frequency and alert.
Flashlight
Batteries
Whistle

Pocket knife
Dust masks
Plastic sheeting
Duct tape
Rope
Ax, shovel, broom
Tools: screwdriver, pliers, hammer and adjustable wrench
Moist towelettes for personal hygiene
Garbage bags and plastic ties for sanitation
Local maps
Cell phone with chargers and backup battery
Safety pins, needles, thread
Scissors
Cash
Documents in a waterproof, portable container: digital or paper copies of insurance policies, identification and bank account records
Sleeping bag or blanket for each person in the household
Tent
Gloves for cleaning up debris
Household bleach and medicine dropper to disinfect water
Fire extinguisher
Garden hose (siphoning, firefighting)
Matches in a waterproof container
Candles
Hygiene items (bar soap, facial tissues, toilet paper, sunscreen)
Small plastic storage bags
Dining kits: paper cups, plates, napkins and plastic utensils

Paper and pencil

Your list of essential items is household dependent. Since these needs can change, update your kit every year as needed and replace expired items.
Prescription medications

Over-the-counter medications, such as pain relievers, anti-diarrhea medication and allergy relief

Eyeglasses and contact lenses with solutions
Feminine hygiene supplies

Infant formula, bottles, diapers, wipes, diaper rash cream
Pet food and extra water
Complete change of clothing (appropriate sizes)
Sturdy shoes to protect from broken glass and debris (appropriate sizes)
Activities for children: books, puzzles, games

Store the items for your car survival kit in a small suitcase, bag or backpack for portability.
Blankets

Change of clothes and sturdy shoes

Heavy gloves

First aid kit and manual

Nonperishable food, such as protein bars

Bottled water
First aid kit and manual
Moist towelettes

Prescription medications

Toilet tissue

Cash, including coins
Paper and pencil
Fire extinguisher
Rope for towing or rescue
Tools (pliers, adjustable wrench, screwdriver)
Jumper cables
Duct tape
Emergency signal device (light sticks, flasher, reflector, whistle)
Flashlight with fresh batteries
Battery-operated radio with fresh batteries
Local map and compass
Survival Kit at Your Workplace
Your workplace kit should include items you'll need for at least 24 hours.
Nonperishable food

Bottled water

Sweatshirt or jacket
Sturdy shoes
Blanket
Extra pair of eyeglasses or contact lenses and solution
Small first aid kit
Essential medications
Flashlight with fresh batteries
Battery-operated radio with fresh batteries
Whistle or other signaling devices