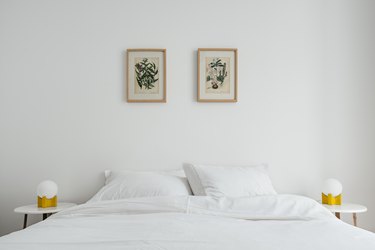 When we look for design inspo, there are certain locales we default to — Scandinavian countries; big U.S. cities like New York and L.A.; undisputed design capitals like Paris and Rome. And while we do keep tabs on Spain, neighboring Portugal is a place we often overlook.
But we shouldn't. And The Lisboans, a 15-apartment hotel in the country's capital city, is just one of the reasons why. The decor is what co-founder and owner Isaac Almeida calls "Scandi-Med," an eclectic mix of midcentury Nordic pieces, contemporary furniture, and organic local elements culled from antique shops and flea markets. (Basically, the type of vibe and curation we're constantly seeking to bring into our own homes.) "The result is a kind of fusion that creates a stylish, distinctive, and unique atmosphere," says Almeida, "but with a real Portuguese touch."
Of course, aside from pinning these pics for personal inspo, The Lisboans is definitely a spot to bookmark for your travel list thanks to its interesting history and revival: "The Lisboans used to be an abandoned factory of candied fruit, preserves, and biscuits," Almeida explains. "The building itself was a real case of rise-from-the-ruins, a derelict 19th century edifice."
In its newest hotel incarnation, the façade features a 56-foot-high mural by well-known Portuguese street artist Akacorleone. Downstairs, there's a chic restaurant called Prado and Prado Mercearia, an upscale deli.