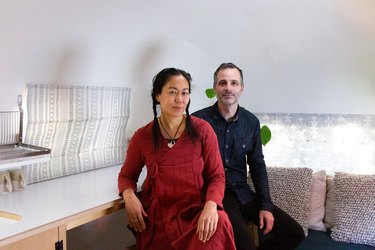 Who: Cynthia Tuan and Shane Beers
Where: Portland, Oregon
Style: Airstream modern
The Airstream is about as iconically American as you can get. Founded in 1930 in Los Angeles, the company has been steadily producing a variety of "silver bullet" trailers for almost 90 years — and a shocking number are still on the road, a testament to their timeless style and design. Their relatively recent resurgence coincides with the tiny-house movement, as well as the rise of short-term lodging services like Airbnb. And it's not surprising why — the simple, retro design is a perfect backdrop for of-the-moment vintage-modern interiors that design-minded travelers crave.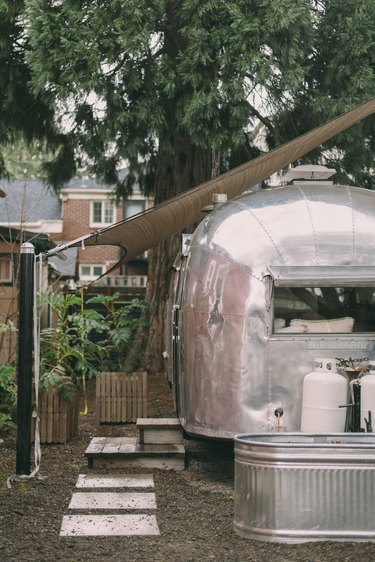 Take this 1958 "Land Yacht" Airstream, parked outside of Cynthia Tuan and Shane Beers' home in the Buckman neighborhood of southeast Portland. It took two years of painstaking restoration, which the couple — an art director and furniture/product designer, respectively — did almost completely by hand. It's well documented on their charming Instagram account, @silver_sequoia, so named for the bright sheen of the Airstream and the shade of the mature, 100-foot giant sequoia that it sits beneath. And the work paid off — Sunset called it one of the 10 best vintage Airstream Airbnbs in the West.
The anchor of Tuan and Beers' design is respect for the vintage exterior, along with the meticulous renovation of its interior — all with a designer's eye and intellect. "She's 1958 on the outside, but all 2018 on the inside," jokes Tuan. The Schoolhouse Electric lighting, Chemex and Stumptown coffee, global textiles, and woven baskets give the trailer a Pacific Northwest boutique hotel feel, but it's the custom details that really sing. Much of the clean, birch woodwork and design is Beers'.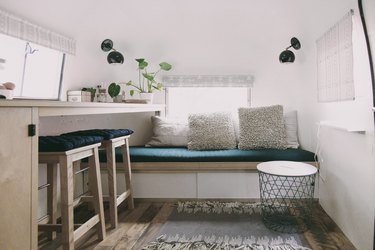 "We actually jumped into this project not long after we met, but we knew right away we wanted to create something together," says Tuan. "We were curious about not only making an efficient tiny living space, we sought the added challenge of keeping it light for future mobility." It's not just an aesthetic venture, but functional — almost elemental. "All our design and build choices were filtered by how are we powering it? Is the material light enough? Will it be road-worthy?"
"I still catch my breath each time I walk into the space," says Tuan.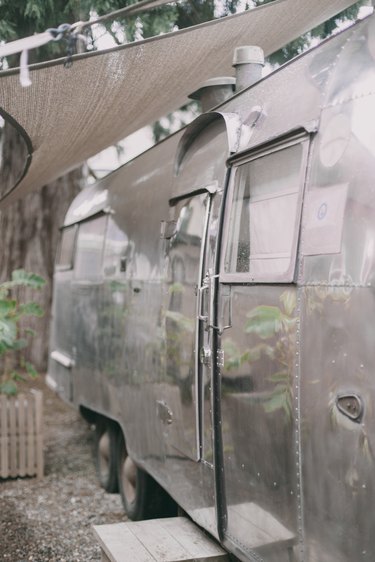 "We knew we wanted an older model for the lighter weight, classic styling but also knew, too, that that also meant being patient, finding one that was in sound condition, had good bones to be just the right candidate for our remodel," says Tuan.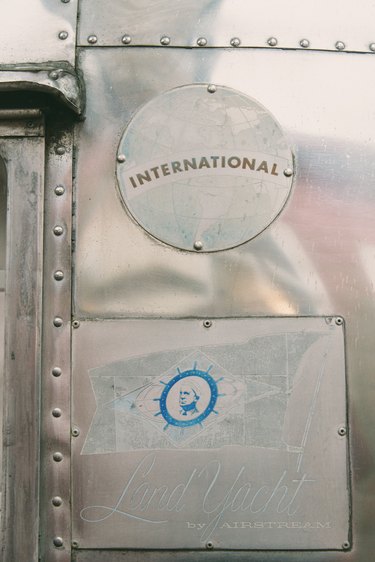 The renovation process was thorough. Tuan and Beers gutted it and redid the electrical, plumbing, heating, layout, and design, built and fabricated much of the interiors and sourced countless custom materials, right down to the Olympic rivets.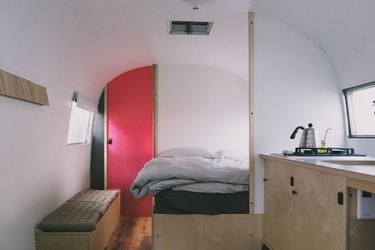 Inside, the two main rooms of the trailer — the bathroom and the open living area — are separated by a custom, 21 1/2-inch pink acrylic door from TAP Plastics. "One thing we found that was super helpful to figure out the right scale in our nonstandard, tiny space, every-inch-is-a-commodity world, was to make life-size models out of cardboard," says Tuan. The custom leather pulls are from Rowzec, an Etsy shop based in Romania.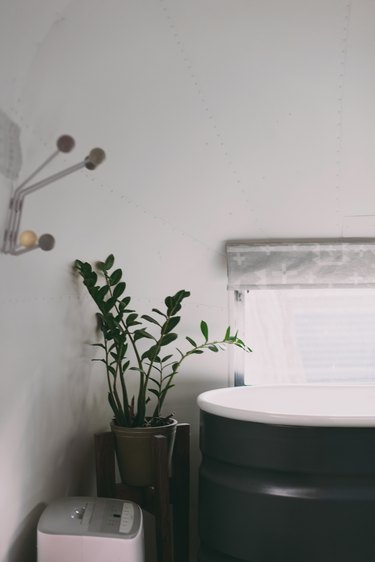 The bathroom is home to some of Tuan's favorite aspects of the renovation — the composting toilet plus a repurposed stock tank bathtub, which they sanded, coated with epoxy, and painted. "Our most expensive single ticket item was probably our unicorn of a composting toilet," she says. After a long search, they went with a model by Swedish manufacturer, Separett, called the Weekender, because it also aesthetically looked most like a regular toilet.
The bucket sink, by Rejuvenation, and slim bathroom accessories are hallmarks of tiny living design. The deep-blue paint is Benjamin Moore's Evening Dove.
The living area is multifunctional. "The way we designed the layout, with the extra-long counter and minimal partition walls between the kitchen and bed, was to purposefully elongate and push the proportions to feel bigger and even more expansive," says Tuan. "And there's something about the lines of the Airstream that give the illusion of ongoing space."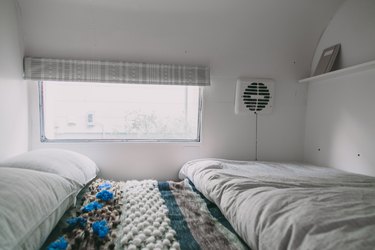 The full-size bed is adorned with a throw from All Roads Studio in Joshua Tree, California. The shades were custom-made by Portland-area designer Caitlin Robinson, a friend.
The couple used a Japanese company, Misumi, for all the cabinetry framing. "It allowed us to significantly cut down on weight," says Tuan. They relied heavily on the Airstream community for the tiny house appliances, and Vintage Trailer Supply for specialty RV parts. "We're fortunate to live where we are. Portland has so many specialty retails, hardware stores, and vendors," she says.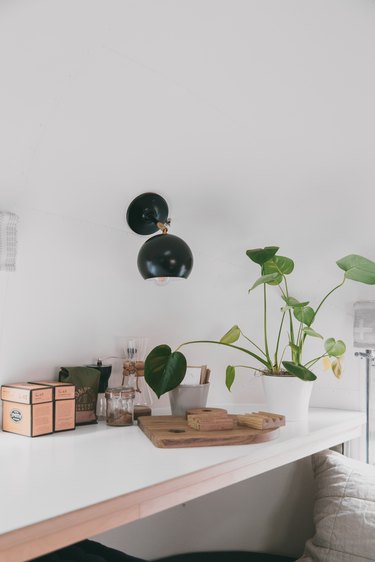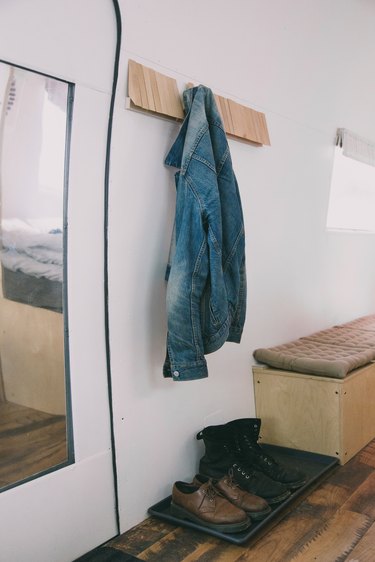 "We wanted to create a cozy space that felt like taking a retreat while you traveled," says Tuan. "Between jobs, child-rearing (we have three girls between us) and, you know, life stuff, it felt like a never-ending project. But we learned so much through it all!"