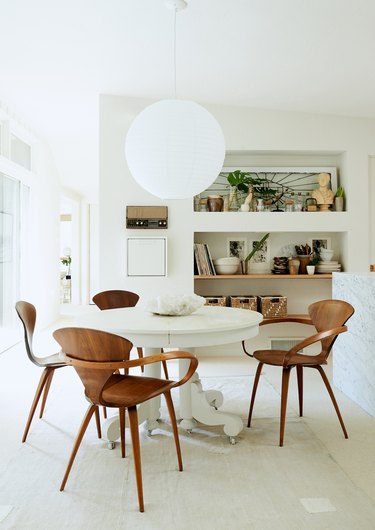 When interior designer Leanne Ford took on an overhaul of a midcentury home in the South Hills of Pittsburgh, she wanted to figure out a way to make it feel of-the-moment — but had some things to figure out. First, the house was in a terrible state. "[It was] dark, dingy, moldy, and outdated," said Ford. "But it was still magic. The clients just knew that it had so much potential." Second, it was an architectural gem. Originally created by esteemed architect Don Owens, an apprentice of Frank Lloyd Wright, the design team exercised an extra measure of caution when updating the historic elements. "The biggest challenge for me as the designer in charge of giving the home a second life was to respect the style and design of the home. We kept the bridge entryway, but made it safer and new," Ford said. "Just because we had to refresh and really start over on most of the home didn't mean we should take all of the interest and uniqueness out."
The result? A home where a fresh aesthetic — a monochromatic scheme mixed with natural textures and elements — works within the bones of the space.
---
After interning at Dwell magazine in San Francisco, Kate began writing about arts, design and culture for other national publications. She is based in Los Angeles and San Francisco.