Tongue-and-groove flooring is made up of individual boards with special interlocking edges that are hidden once the boards are installed in the finished surface. Each piece has a tongue (a continuous ridge or tab) along one side and one end of the board and a groove (a channel) along the other side edge and end. The grooves of each piece fit over the tongues of the neighboring pieces, locking the pieces together so the boards stay flat and resist movement. The quintessential tongue-and-groove flooring material is solid hardwood planks, but there are several other types of wood flooring (and even vinyl) that fall into this category.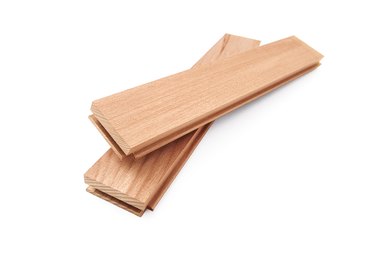 Types, Shapes and Materials
Most tongue-and-groove flooring materials are wood, or wood derivatives, and fall into one of three types: solid wood, engineered and laminate. The most common shape or form of tongue-and-groove flooring is the plank, which ranges from about 2 1/4 to 6 inches wide and is sold in a variety of lengths to create the attractive "staggered" look of wood flooring. This staggered style also owes to the fact that it would be difficult and very expensive to mill planks long enough to span an entire floor. Some vinyl flooring, such as "luxury" vinyl planks, also can be made with tongue-and-groove edges.
An alternative to plank-style tongue-and-groove flooring is parquet flooring. This traditionally consists of very short tongue-and-groove boards installed in a checkerboard or herringbone pattern. But today, parquet flooring also comes in 9-, 12- or 19-inch square tiles made with a plywood (or similar) backing topped with short wood planks.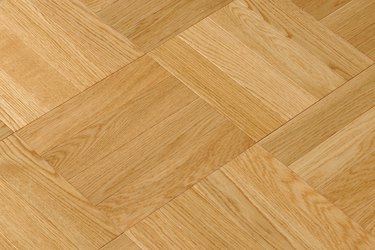 Tongue-and-groove flooring is available in wide range of wood species (or "wood-look" varieties), including hardwoods, such as oak, maple and walnut; softwoods, such as pine and Douglas fir; bamboo; and even cork, which comes from the cork oak tree.
Solid-Wood Tongue-and-Groove Flooring
Solid-wood tongue-and-groove flooring is the wood flooring found in many old homes and is the most common type of wood flooring used for basketball courts and bowling alleys. Each piece is a strip of solid wood that is typically 5/8 or 3/4 inch thick.
Solid-wood flooring is sold in unfinished and prefinished forms. Unfinished flooring is first installed, then it is sanded flat and finished by the installer. Prefinished flooring has a durable finish applied at the factory and does not need to be finished after the installation. Flooring finish typically includes the application of a wood stain for consistent coloring, then several layers of a protective topcoat, such as clear polyurethane.
Engineered Tongue-and-Groove Flooring
Engineered tongue-and-groove flooring is similar to solid-wood flooring but has a plywood-like construction consisting of thin layers of wood glued together to form a plank. The top layer is usually hardwood and is typically prefinished. Engineered flooring offers more installation options and applications than solid-wood tongue-and-groove flooring.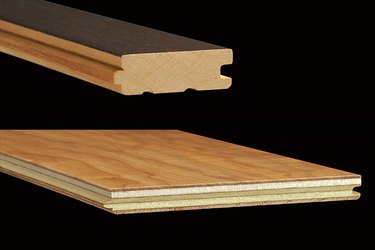 Laminate Tongue-and-Groove Flooring
Laminate flooring is made of fine particles of wood glued and pressed into a solid plank to serve as the base. Each plank is then topped with a thin photographic film (and a clear protective layer) to mimic the look of real-wood flooring. The planks are relatively thin—about 8 to 12 millimeters—and have special tongue-and-groove edges that lock together (not just slide into one another, like traditional tongue-and-groove joints), allowing them to be installed without nails or glue. Many engineered tongue-and-groove flooring types also have these special locking, or "click-together," edges.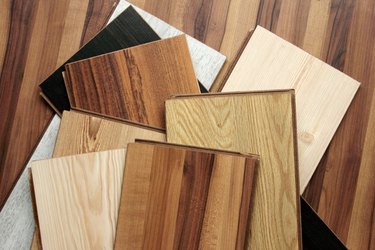 Installing Tongue-and-Groove Flooring
Tongue-and-groove flooring can be installed with several different methods. Solid-wood and most engineered planks can be fastened to wood subflooring with nails. This involves a special technique called blind-nailing, in which flooring nails or staples are driven at an angle through the tongue edge of each plank, angling backward toward the plank. When the next row of planks is installed, their grooves fit over the nailed tongues, hiding the nail heads. Nailed tongue-and-groove flooring typically is installed over a layer of rosin paper or building paper and is fastened with a flooring nailer or staple gun.
Installation with glue (flooring adhesive) is an option with solid-wood, engineered, laminate and tile-type tongue-and-groove flooring. Glue is often used to install flooring over concrete slabs because the concrete is difficult to nail into. However, glue installation is not very DIY-friendly and is not necessary for most residential applications.
An easy alternative to glue-down and nailed installations is a floating floor, which uses no glue or fasteners. This is the preferred method for DIYers and works with laminate and some types of engineered and vinyl flooring. The installation starts with an underlayment of thin foam or other material (this isn't typically used with vinyl) that's laid over the entire floor. The flooring planks are laid row-by-row (as with nailed and glue-down installations) and the planks are joined together by fitting each new piece at an angle against the installed row, then pressing the new piece flat, interlocking the special tongue-and-groove joint. After each piece is laid, it is usually tapped tight against its neighbors with a special block (to prevent damage to the tongue edge) and a hammer or mallet.