Besides its contemporary appearance and green sustainability, cork flooring has many positives and a few negatives for use in your home. Decide if it's the right flooring for the kitchen, a basement, kids or pets by looking at a few its basic pros and cons, as well as its cleaning and maintenance requirements.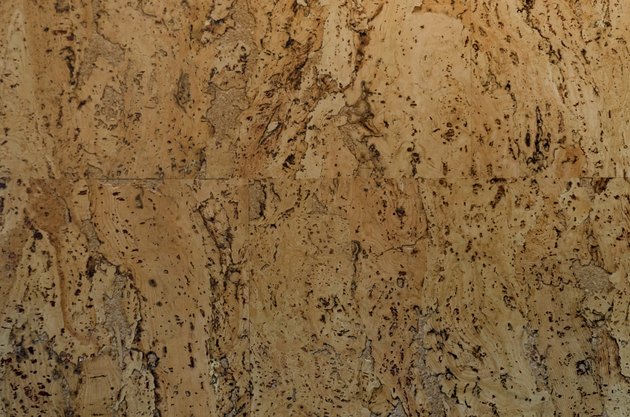 credit:
vili45/iStock/Getty Images
Dampness and even high humidity can cause a cork floor's fiberboard center or core to expand and the tiles to buckle and separate. Although you can create airflow by using a raised subfloor to lift it above the damp concrete, an overly humid space remains an issue for cork with an absorbent fiberboard core. Flooding is another worry, since flood waters seek the lowest level, and any fiberboard-type floor can swell and be ruined by extreme wetness, but flooring made with 100 percent cork can survive a basement that floods. In the event of a flooded basement covered with 100 percent cork flooring, be prepared for loosened tiles because the water weakens glue and adhesives.
With its natural hypoallergenic qualities, cork resists mildew and mold growth, making it a good choice for allergy sufferers. Not only does cork come in an artist's palette of warm and cool colors with a variety of natural browns, its cellular structure means it's warm underfoot. Colored cork tiles or planks allow for versatile and random or repeat patterns. Dark shades typically don't fade as much as pale shades, and you can minimize fading by selecting a cork product with an ultraviolet-protective finish, and by drawing the curtains to block direct sunlight or treating your windows with a UV-protective film, if they don't already have it.
Vacuum or sweep easy-care cork flooring weekly or as needed to reduce ground-in grit and wear from foot traffic. Cork wipes clean with a damp mop and gentle, pH balanced cleaner, if suggested by the manufacturer. Overlooked spills left to seep can leave lasting stains, causing the porous material to swell and its edges to cup or curl, especially if has a fiberboard center or isn't properly sealed or maintained. As long as you take care of cork flooring by waxing it every six to 12 months or reapply its varnish or other protective finish as recommended, based on the manufacturer and product, your eco-savvy flooring's warranty should remain valid.