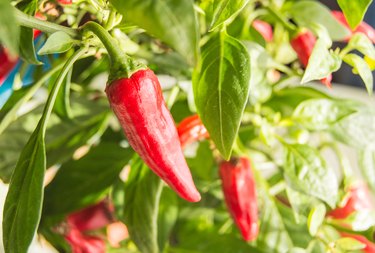 Some of the easiest plants to grow in Arizona thrive in the desert's hot, dry climate. The variations in elevation and temperature, such as the cooler temperatures in the northeastern section of the state, influence when and what to grow. Warm-season and cool-season crops can be planted, and many vegetables can grow year-round, but it will depend on the USDA plant hardiness zone.
Warm-season crops need a lot of sun and heat to grow and bear fruit. However, if there is too much heat, it can adversely affect the growing cycle. The growing season in Arizona for warm-season vegetables is from early spring to early summer depending on the hardiness zone in which you live. The soil in Arizona is often lacking nutrients, which are needed for plants to grow and survive. Adding amendments, such as compost, to the soil is beneficial.
The ideal time to start chili and pepper seeds is in early spring, typically in March or April, and then transplant them a few months later. The month of June is a good time to transplant chili and pepper starts directly into the garden bed. For chilies and peppers to grow, temperatures during the day need to range between 65 and 80 degrees Fahrenheit, with nighttime temperatures of at least 55 degrees but not higher than 86 degrees for a long period of time, or it will affect growth. Chilies like sandy soil and do well when there isn't much spacing between plants.
Eggplants grow easily in the southwest part of Arizona, and they love lots of sun. They are usually planted in March after the last frost and need well-drained soil. For eggplants to bear fruit, they need at least five months of warm temperatures around 70 to 85 degrees. If temperatures get too hot, such as above 95 degrees, or too cold, such as below 60 degrees, it can prevent fruit from forming.
Despite the name, these types of squash are grown in the summer and typically consumed in the fall and winter. Seeds need warm soil to germinate and transplants don't do well when there is a frost. Winter squash seeds are typically planted in mid May through the end of June, depending on your climate zone. Harvest time is usually in September and October when the skin is hard. Store winter squash in a dry area with temperatures ranging from 50 to 55 degrees. The best way to store them is in one layer without the squash touching.
Zucchini grows easily under the right conditions. These plants love plenty of sun and like to have the soil kept moist; don't let the soil dry out between waterings. Always water at the root base or at soil level instead of over the plant as this can make the plant susceptible to diseases. Zucchinis can typically be harvested a little under two months after planting depending on the variety. You can plant zucchini in March and again at the end of August for two harvests.
Cool-season vegetables are best planted in the fall before frost arrives because these vegetables do best in cooler weather. Typically, cooler-weather vegetables are grown from September to February. Plants, such as spinach, may need more care since they are sensitive to extreme temperatures, which can affect their growth.
Broccoli is an easy vegetable to grow, and it can be planted in fall, winter, or spring. Broccoli can handle temperatures as low as 30 degrees and as high as 90 degrees. It does well in most types of soil but does best when there is good drainage. Typically, broccoli seed is sown into the ground but broccoli seedlings can also be transplanted. Before planting seeds or transplants, it's best to check with a nursery or garden center about which varieties are ideal for your climate zone.
Carrots can be planted in the spring for a summer harvest or in fall for a winter harvest. These root vegetables are sweeter when grown in cooler weather. Carrots, like other root vegetables, love the sun and do best with a minimum of eight hours of direct sunlight each day. Soil should be loose instead of compact and amended with plenty of compost or organic matter to ensure successful growth. Hard objects, such as rocks, in the soil can cause carrots to grow in an irregular shape and should be removed if possible.