The water slowly soaks into the soil around the plants, providing much needed moisture and nutrients to the tender roots. While many gardeners are familiar with using rain barrels to save water, a 5-gallon pail may suffice for a small garden. Adding a spigot to a 5-gallon bucket and setting it on a stand or table provides you with a convenient method of disbursing water, gray water or compost tea through a garden or soaker hose.
Place the 5-gallon pail on a sturdy table or workbench. Measure 2 inches up from the bottom of the pail, and mark the spot with a permanent marker.
Put on heavy gloves and safety glasses to protect your hands and eyes.
Cut a 1-inch diameter hole in the side of the pail, using an electric drill and 1-inch hole or spade bit. Center the hole on the marked spot.
Place a rubber washer onto the faucet's threaded inlet pipe. Then wind plumber's tape clockwise onto the faucet's threads to help prevent leaks.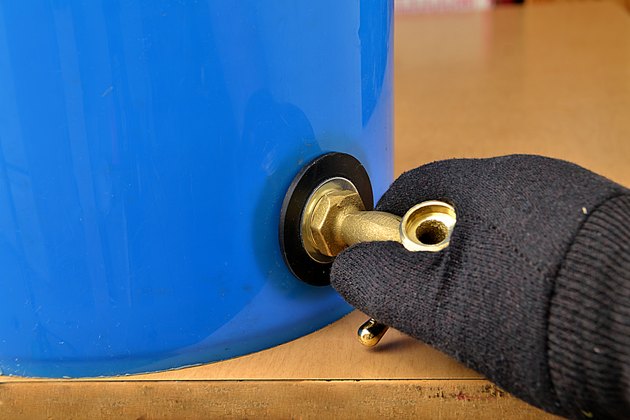 Push the faucet's inlet pipe through the hole in the bucket. Place the second rubber washer onto the pipe, inside the pail, and then add the locknut.
Twist the locknut clockwise onto the inlet pipe to tighten it. Once the locknut is hand tight, hold onto the faucet with one hand while using a wrench to turn the locknut an additional one-quarter to one-half turn to firmly secure it to the faucet inlet.