Things You'll Need
Soft cloth

Scratch-remover marker

Padding lacquer

Blending powder

Cheesecloth
Tip
Inspect the piece in bright light in order to uncover any more scratches that may not be visible in low light.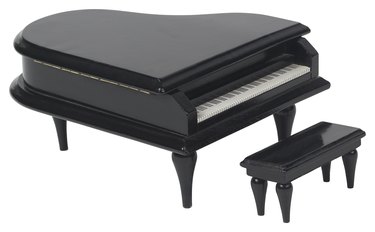 Chinese black lacquer pieces such as end tables, chests and pianos, can be found in homes across the globe. The lacquer is applied to a wooden piece for protection against water damage and weathering. Unfortunately, when pieces covered with black lacquer become damaged or scratched, the end results can be very noticeable and can bring down the value of the piece. It is possible to repair Chinese black lacquer pieces at home.
Step 1
Remove any dust or dirt from the piece by wiping it down with a soft, dry cloth. This will remove any impurities that can cause imperfections in the final repair.
Step 2
Color in any minor scratches or scuffs with a scratch-remover marker. These markers can be purchased to match the color of the black lacquer and should be allowed to dry for 24 hours.
Step 3
Inspect the scratched area. If the scratch is not covered properly, continue to the following steps.
Step 4
Combine padding lacquer with the blending powder to match the color of the piece -- in this case, black. Pour one tbsp. blending powder into the liquid padding lacquer and stir it. Add more powder until a black color is achieved.
Step 5
Wet a small piece of cheesecloth with the mixture and test it on an inconspicuous spot on the piece. Allow the mixture to dry and check the color. If it is too light, add more blending powder and try again.
Step 6
Cover the affected area with the proper color. Once again, use a piece of cheesecloth to apply the mixture.
Step 7
Allow the piece to dry for 12 to 24 hours. Inspect the piece and if it is still too light, apply another coat of the blending powder and padding lacquer mixture.
---
Residing in Chippewa Falls, Wis., Jaimie Zinski has been writing since 2009. Specializing in pop culture, film and television, her work appears on Star Reviews and various other websites. Zinski is pursuing a Bachelor of Arts in history at the University of Wisconsin.