Wine Wednesdays with friends or the occasional glass after work can be the best pick me up after a long day. If you're a wine connoisseur or just dipping your taste buds in wine culture, then you may have realized that the most annoying thing about wine is when it stains the glass. Have no fear, it's an easy fix and you can go back to Instagramming photos of your wine glass in no time.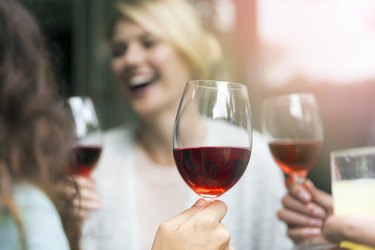 What You Need
It doesn't take a lot of expensive supplies to clean wine stains from a glass. In fact, you probably have the items in your cleaning arsenal already. All you need is white vinegar and a plastic scrubber or nylon net. First, you're going to submerge your bottle of white vinegar in a bath of hot water for one minute. Then, using a large bowl or a sink, you're going to submerge your glass in the warm vinegar solution for one hour. This allows the wine to break up. Next, using the plastic scrubber or nylon net, you're going to scrub and rinse the glass with warm water gently. To prevent your wine glasses from getting stained in the future, you should rinse them immediately after drinking your wine. It's super important to do this if the glasses are going to sit in a sink overnight. By giving them a quick rinse, the wine won't stain the glass.
When Your Glass Is Still Stained
If your glass is still stained after using the white vinegar solution, you are going to fill your glass with a white vinegar and baking soda solution. All you need is a spoonful of baking soda. Between the chemical reaction of the vinegar and baking soda, as well as scrubbing the stain in hot water, this should remove any stubborn stains that won't go away.
Can You Put Wine Glasses in the Dishwasher?
The majority of the time when you're drinking wine, you should hand wash your wine glass. If you don't have time, though, and don't want to leave your glass sitting in the sink, you can put them in the dishwasher. Make sure to wash your glasses on a gentle cycle and don't place them close together so they won't break. But keep in mind that this is not something you should do with your expensive Olivia Pope-style wine glasses. Putting a wine glass in the dishwasher can leave scratches on the glass, cause them to chip or break or make the glasses look cloudy or dirty. Reserve the dishwasher for your inexpensive wine glasses that you won't mind messing up.