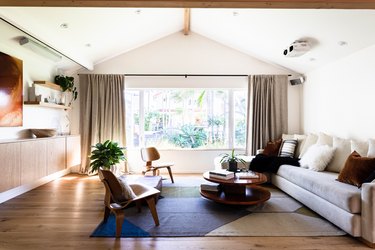 Squeaky is all about the borderline genius hacks and ideas that keep literally every inch of your space pristine.
Coffee stains on rugs can sometimes go unnoticed, especially when your drink splashes under furniture. The good news is that cleaning coffee stains from carpets and rugs is super simple to do even if the stains are old. You only need a few ingredients from your cleaning closet.
Things You'll Need
2 cups of hydrogen peroxide


1 cup of dish liquid

Water

Clean dish towel

Clean spray bottle
Warning
Be sure to test this on a small area of your rug before using. This solution works great on all colors, but should be tested first.
Step 1
Start by mixing the stain remover. Add 2 cups of hydrogen peroxide and 1 cup of dish liquid to a clean spray bottle. Shake well before each use.
Step 2
Dampen the coffee stain with a little bit of water. The object here is wet and loosen up some of the coffee stain.
Step 3
Use a clean cloth to blot up the stain. This most likely will not remove all of the coffee stain.
Step 4
Spray the stain liberally with the DIY stain remover solution. Make sure to get down into the fibers of the carpet or rug with the stain solution. Make sure the stain is thoroughly soaked with the stain remover solution.
Step 5
Let sit for 10 minutes. Watch the magic happen as the solution sits. You will likely see the stain start to disappear on its own.
Step 6
Blot the stain with a clean cloth. Keep blotting the stain until it is just damp. If some of the stain is still there, repeat steps 4 thought 6 again. No need for rinsing.
This method works great for many stains, including red wine and most food stains.