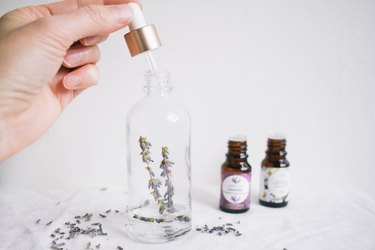 If you prefer to use all-natural laundry products instead of commercial detergents and fabric softeners, you may find that your options are often unscented. To add a fresh scent to your laundry without artificial fragrances, try using essential oils. Lavender oil is a refreshing choice, but any essential oil will do. Lemon oil can help to remove smelly grease, which is ideal for those who work in food service. Because you only need a small amount, using essential oils in your laundry is very economical.
Step 1
Put a few drops of essential oil in a bottle of unscented laundry detergent to add a fresh scent in the wash. The amount of oil you add will depend on the size of the bottle and your personal preference. Shake up the detergent and give it a sniff after every two or three drops.
Step 2
Add 20 to 30 drops of essential oil to 1 gallon of white vinegar to make your own fabric softener. Shake it up. Add 1 cup of this vinegar to the rinse cycle for large loads or 1/2 cup for small loads. Your laundry will be softer and smell fresher.
Step 3
Sprinkle two or three drops of essential oil on a white cotton cloth and toss it into the dryer. Run the dryer on your usual heat setting.
Step 4
Set the dryer to "no heat" after your clothes are dry. Run the dryer for an additional five minutes to set the smell in your clothes.