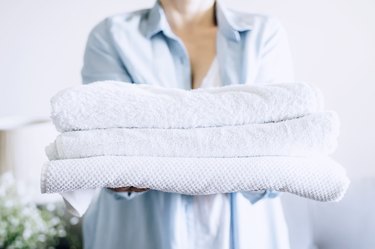 Let's be honest. You probably don't take the time to wash your towels correctly. You wash them with your clothes, overcrowd the machine, use too much detergent, and (gasp!) actually use dryer sheets. But once your towels start suffering from improper care, they start getting scratchy, and that's when you might be starting to wonder how to make your towels soft again.
I'm in the same boat, which is why I was so excited when my editor asked me to test all of the internet's most promising cleaning hacks to restore softness and fluffiness to old, stiff towels. Could these DIY tricks make my old bath towels feel new again, or if I wanted something that absorbent and fluffy, would I need to start over with brand-new towels?
Why Do Towels Get Scratchy?
The two main things that cause your towels to lose their softness are residue from hard water and laundry products, such as detergent, fabric softener, and dryer sheets. Properly caring for your towels from the beginning will make them stay soft longer, which means you should use half as much laundry detergent as the manufacturer recommends (shocking, we know). You should also avoid using fabric softeners and dryer sheets because these products contribute to the residue buildup that makes your towels feel rough.
Unfortunately, washing your scratchy towels properly in the future isn't enough to remove all the residue, which is where all these towel-softening life hacks come into play.
I tested a set of old cotton towels of my own that are good-quality but have become scratchy over the years.
I tried each new washing method on a separate towel and dried the towel in my dryer on a basic tumble-dry setting on medium heat. For the last methods, I did a regular wash and tried a special drying technique.
I created an effectiveness scale of 1 to 5:
A score of 1 means there was no noticeable difference
A score of 5 means the towel felt much softer, even brand new
To make my test as scientific as possible, I set one towel aside as the control and compared each tested towel to the control to see how soft it got.
After all this, I am confident in the results of my testing. However, your mileage may vary based on the age of your towels, what detergent you use, how frequently you wash your towels, how hard your water is, and how well your washer and dryer work.
1. Brushing Towels Soft Again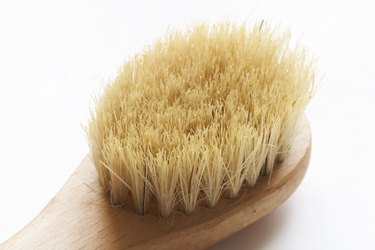 Brushing your towels helps loosen the fibers, separating them to increase their absorbency and removing residue from detergent and hard water.
Run a soft-bristle hair brush (I used this Diane brand one for $6.29 on Amazon) along your towel a few times. I tested this method on a small section on every towel that was tested — after washing and drying — as well as on the control towel.
While the theory was sound — after all, grungy and tangled hair certainly feels softer after a good brushing — it still seemed strange to sit there brushing my towels. Also, while I could brush a small section in a short amount of time, it would take a while to brush the entire surface of the front and back of each of my towels.
Although I probably wouldn't take the time to brush my towels in the future, doing so did make them a bit softer, bringing them up about one point on my softness scale. The best thing about this method is that it works along with other strategies, further increasing the fluffiness of any successful softening technique.
Effectiveness Score
2 out of 5
The score could be even higher on towels that are already softened using other methods. This method definitely works, but it takes a while and made my towels only slightly less scratchy.
2. Washing Towels in Baking Soda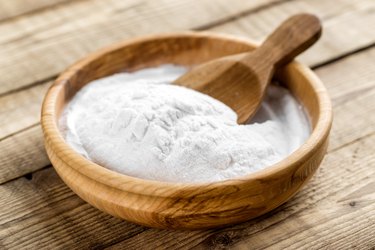 When trying to find out how to make my towels soft again, I kept seeing people talk about using baking soda, but oddly, most of them mentioned its ability to eliminate odors, which doesn't have anything to do with its ability to make a towel fluffy again. Eventually, I read that baking soda is said to help dissolve the calcium deposits from hard water, though it doesn't seem to do anything for magnesium, which is also largely present in hard water.
Add 1/2 cup of baking soda and your normal amount of detergent to the washer drum while it fills up with hot water (if you have a top-loading machine) or before you throw in the towels (if you have a front-loader), then wash your towels as usual.
Unfortunately, using baking soda with my detergent seemed to be just as effective as my detergent is when used alone.
Effectiveness Score
1 out of 5
This technique might work well on mildew odors, but it won't restore old towels.
3. Using Vinegar Instead of Detergent
Vinegar is an excellent natural cleaner, said to help dissolve buildup of body oils, detergent, and minerals.
Put 1 cup of white vinegar in your fabric softener dispenser and wash your clean towels with hot water without any detergent.
If you don't have a fabric softener dispenser (I don't), you can either pour it in during your rinse cycle or use a Downy Ball, (you can grab one on Amazon for about $5), which releases the vinegar during the rinse cycle.
The vinegar was better than nothing but not by much. I still wouldn't consider this towel soft, even if it was a little less scratchy than when I started. I wouldn't go through the effort of washing my towels with vinegar only to gain such a minor textural improvement.
Effectiveness Score
2 out of 5
This technique did work but only marginally.
4. Using Baking Soda and Then Vinegar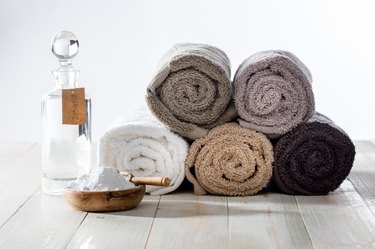 If baking soda and vinegar break up residue on your towels, then using one after the other will give you even more impressive results.
Sprinkle 1/2 cup of baking soda into the washing machine drum before adding the towels or as it fills with hot water.
Add 1/2 cup of white vinegar to your fabric softener dispenser (I used a Downy Ball).
This double-washing technique left my towel slightly softer than vinegar alone but barely. I still don't think I'd bother using this method for such a slight improvement.
Effectiveness Score
3 out of 5
While this towel was softer than those washed using previous methods, it was only a tiny improvement over vinegar alone.
5. Washing Towels in Ammonia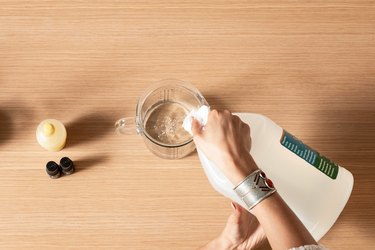 Ammonia is effective at breaking up mineral deposits, so it should help if your towel is scratchy from hard water buildup. (Although it sounds strange, ammonia is used as a laundry additive quite commonly.)
Add 1 cup of ammonia to your washer instead of detergent and then wash using the highest water temperature possible.
Like baking soda, I found this technique entirely ineffective. Perhaps my towels don't have hard water deposits, but I would be surprised if this were the case because the local San Diego County water supply is among the hardest in the nation.
Effectiveness Score
1 out of 5
Given how caustic ammonia is and how ineffective this method was at softening my towel, I would advise against trying this yourself. If you're curious about this method, perhaps give your towel an additional rinsing at the end of the cycle to see if it makes a difference. (I didn't do this in my experiment.)
Strip washing is a TikTok trend that supposedly removes all types of residue from your fabrics, including detergents, fabric softeners, hard water deposits, dirt, and oil. Tons of towel-stripping videos online show washing machines and bathtubs filled with dirty, grimy water after using this technique.
Add 1/4 cup of borax, 1/4 cup of washing soda (this is not the same as baking soda), and 1/2 cup of your usual laundry detergent to your washing machine
Set it to the hottest water temperature and the longest rinse cycle.
Put your towels in the machine, let it agitate them for a few minutes, stop the cycle, and let them soak for four or five hours.
Once the water has fully cooled, turn the machine back on to continue the wash and rinse cycles.
If you have a front-loading washing machine, you may need to do this in a bathtub or bucket because these machines do not typically allow you to stop midcycle.
I had high hopes for this technique after seeing the filthy-looking water my towel was soaking in after a few hours. But once my towel was rinsed and dried, I found that it was ‌more‌ scratchy after being strip washed. As it turns out, the dirty water seen in towel-stripping videos is often just the dyes coming out of the fabric, and washing soda can actually bind to minerals, creating more deposits in your towels. This was the biggest failure of all the methods I tested to soften my towels.
Effectiveness Score
0 out of 5
My nice, but slightly old, towel felt like a cheap, scratchy nightmare after this method, and I only hope I can restore it to its starting point. I recommend avoiding this method entirely.
7. The Winning Method: Citric Acid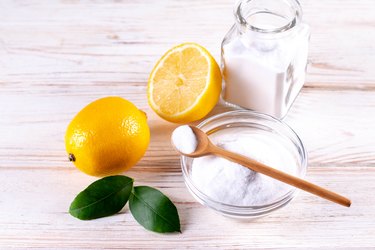 I have a confession: I didn't find this hack online when searching for how to make towels soft again. I bought a giant bag of citric acid from Amazon for about $25 to descale my teapot (few things work as well for removing hard water buildup), and while I was running my experiments, I wondered if it might help "descale" the buildup on my towels too. When I saw that the product claims to work on laundry, I decided to find out if anyone had success using it to soften towels, and sure enough, a few people recommended its use.
Warning
Acidic products, including vinegar and citric acid, can damage rubber seals within washing machines. While I tested this method in my washer because it's old and needs to be replaced soon anyway, it's probably best to soften your towels with citric acid in a large bucket or bathtub.
It's also worth noting that citric acid can potentially fade your colored towels. Of course, if you value softness over brightness, this might be an acceptable trade-off. Personally, I didn't notice any change in my towel's appearance, but I avoided using it on my dark towels for this reason.
If you're not afraid of damaging your washer and want to try the same method I used, put 1/2 cup of citric acid in your washing machine and wash using hot water.
To get the same results without potentially harming your washing machine's rubber seals, use your bathtub or a large wash basin instead:
Fill the tub about halfway up with hot water, then pour in a 1/4 of a cup of citric acid and stir well until all the powder has dissolved.
Place your clean towels in the tub, then dunk and swirl them around until they're fully saturated in the water.
Let sit for 15 minutes, then drain the water from the tub and ring out your towels.
Fill the tub back up with clean water and use it to rinse the citric acid from the towels.
Then, drain the tub and ring out your towels.
Wash and dry your towels as you would normally.
Citric acid was the only cleaning method I tried that significantly improved the softness of my towels. I had such good results on the first towel I washed this way that I tested it on a few others to verify the result. Sure enough, citric acid made all my towels fluffier and less scratchy, even the super rough one I strip washed (though it is still scratchier than it was before that experiment). I even tested it on a dirty dish towel that smelled like mildew to see if it cleaned as well as it softened, and it did.
Effectiveness Score
4 out of 5
I was really hoping to find a solution that made my towels feel new again, and while this didn't quite do that, it was the most effective method I found.
8. Put Tennis Balls in Your Dryer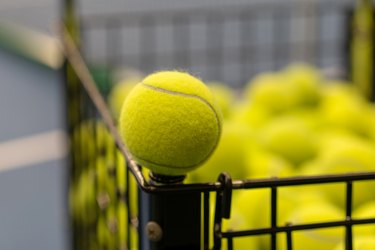 Tennis balls can increase the softness of your towels and reduce drying time by bouncing around and fluffing them as they dry. Wool and plastic dryer balls achieve the same results using different materials.
Add a few tennis balls when you dry your towels so they can fluff the fabric as it dries.
I've heard people swear by the tennis ball method for years, but it didn't make the towel softer in my testing. I didn't time how long it took my towel to dry, so it's possible the tennis balls sped up the drying process, but they certainly didn't help restore its texture.
Effectiveness Score
1 out of 5
The tennis balls didn't seem to have any noticeable effect on my towel's softness versus just putting them in the dryer alone.
9. Drying Towels in the Sun
Almost every source I looked at suggested tumble drying towels, but I went ahead and tried line drying the towel outside to see how much air drying impacts the softness of the fabric.
Hang towels on a clothesline in the sun and then tumble dry them when they're barely damp.
My towel dried incredibly unevenly even after I tried to rotate it so both sides faced the sun for a while. One side was completely dry, while the other side was still wet enough to develop a mildew smell. The side that dried fully under the sun was very scratchy.
I balled up the towel multiple times before tossing it in the dryer to spread the moisture from the damp side to the dry side. Once I felt it was close to even, I put it in the dryer. After it dried, the towel felt essentially the same as it did before it was dried, but it still had a bit of a mildew smell.
Effectiveness Score
0 out of 5 when dried entirely in the sun, 1 out of 5 when finished in the dryer.
While line drying prior to tumble drying could save you money on your energy bills, if you have thick towels, it could dry your towels unevenly and cause them to smell mildewy.
If you really want your towels to feel new, buy brand-new, high-quality bath towels and wash them properly right from the start. No matter how well you wash them, though, hard water and mineral deposits will eventually start to build up in the fabric. When they start to lose their softness, wash them in a bathtub with citric acid to get the residue out of the fibers. And if you really want to ensure they are soft, give them a thorough brushing after removing them from the dryer.