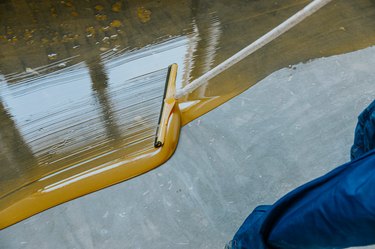 Even when you're working carefully, it's easy to get a little epoxy where you don't want it. If you react immediately, you can usually wipe off the wet resin with a little isopropyl alcohol, acetone, or even vinegar. Things get a bit more complicated after the epoxy hardens and sets. Cured epoxy can still be removed, but it takes a lot more elbow grease, and you may need to try more than one removal method.
Whenever you're removing a stain of any kind, there are two things you need to do. The first is a spot test. Apply any chemicals you plan to use in an inconspicuous area before using them to remove the stain. If the chemical damages the surface, you should clearly try something else instead.
You'll also want to start attacking the epoxy in the safest and simplest ways first. You should start simple and work your way up to potent chemicals only if necessary. If you can remove the epoxy with a heat gun and a little scraping, it's better to do that instead of reaching for the acetone or something harsher.
Things You'll Need
Vinegar

Clean cloth

Clothes iron


Clean towel
How to Remove Dried Epoxy Resin
Step 1: Heat the Epoxy and Scrape It Away
Some epoxy formulas break down and loosen when exposed to heat. First try scraping away the dried epoxy with a plastic edge, razor blade, or putty knife. Hold the scraper at a 45-degree angle and try to scrape off the epoxy without gouging the surface.
If that doesn't work or if there is residue left behind, grab a heat gun and try again. Use the heat gun to warm the epoxy to about 194 degrees Fahrenheit (90 degrees Celsius). Keep using your scraper as the epoxy heats up and hopefully softens.
Step 2: Apply Chemicals as Needed
The chemicals you'll need to loosen epoxy depend largely on where the epoxy is located. If the epoxy has dried on a porous surface, like wood or concrete, acetone works well. Simply soak the surface in acetone for a bit and then work off the epoxy with a scraper. Porous materials will soak up some of the acetone, allowing it to surround the epoxy and soften it from multiple angles.
Nonporous materials require a slightly different approach. Acetone can't soak into nonporous surfaces, so it might not be much help. You'll likely need something a bit more potent — in this instance, paint thinner, xylene, sulfuric acid, or methyl ethyl ketone. These substances can be dangerous, however, so always wear safety glasses, gloves, and a respirator when working with them.
Step 3: Remove Epoxy From Your Skin
You can easily get epoxy on your hands or skin both when you're first applying it and when you're trying to remove epoxy accidents. If you do, remove it by wrapping the affected area in a vinegar-soaked cloth to loosen it. You can also safely apply acetone to your skin. Simply wet a towel with some acetone and rub it on the epoxy. Citrus-based hand cleaners will also remove epoxy from your skin.
Step 4: Remove Epoxy From Your Clothes
Removing epoxy from your clothes can take some effort, and unfortunately, it isn't always possible. There are a few things you can try, however. Because your clothes are porous, you can wet them with acetone as you would when removing epoxy from wood or concrete. Always test a hidden area of the clothes first since acetone can damage some fabrics. Let the acetone soften the stain and scrape it away before tossing your clothes in the washing machine.
If this doesn't work, wait until all the acetone has evaporated from your clothing. You can then set your clothes iron to low. Place a clean towel over the epoxy and then place the iron on the towel. This will ensure the epoxy doesn't transfer to the iron. Let the heat soften the stain before scraping it away. Make sure all the acetone is gone first, however, because acetone is flammable, and taking an iron to it is a bad idea.