Tip
In addition to running your dehumidifier, place bowls of white vinegar in the area to combat smells. Vinegar is a natural deodorizer that can greatly eliminate odors. You can also boil water with either cinnamon sticks, orange peels or lemon peels on your stove top to help freshen the air with a pleasant aroma.
If your dehumidifier doesn't remove carpet smells, sprinkle baking soda on the carpet. Allow the baking soda to sit for 15 to 30 minutes and then vacuum.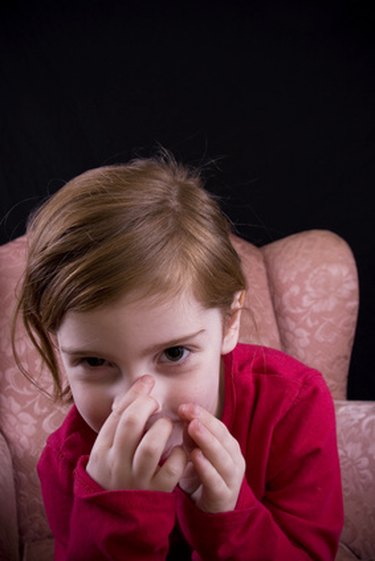 A dehumidifier works by sucking up old, musty air and replacing it with fresh air. It not only removes the moisture--allowing damp spaces to dry--it also helps eliminate mold, mildew and dust mites that can trigger allergies and aggravate asthma. You can purchase a dehumidifier at department stores nationwide and they are simple to use. After a few weeks of use, your home will be left smelling clean and fresh.
Step 1
Place the dehumidifier in the area that you want to remove the smell. Keep the dehumidifier 6 inches or more from any walls, furniture or curtains.
Step 2
Shut all doors and windows in the room.
Step 3
Open all closets and doors, including dresser drawers.
Step 4
Turn the dehumidifier on high and leave running for one to two weeks. You can leave the dehumidifier running without attendance, but you should check the dehumidifier a once or twice a day to see if the tank needs emptying. Your dehumidifier will shut off automatically when the tank is full.
---
Amanda Flanigan began writing professionally in 2007. Flanigan has written for various publications, including WV Living and American Craft Council, and has published several eBooks on craft and garden-related subjects. Flanigan completed two writing courses at Pierpont Community and Technical College.