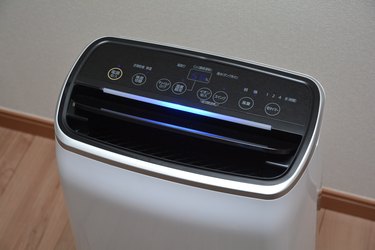 While a dehumidifier's job is to remove excess moisture from indoor air, it also removes some odors, especially those caused by dampness. If your basement has a musty smell, use a dehumidifier to help dry the air and get rid of odors caused by mildew and mold spores that thrive in damp air.
Tip
In order for a dehumidifier to completely remove a moisture-related odor, the source of the problem must be treated. If water seeps into the basement every time it rains, for example, there's a good chance there's mildew or mold growth in the basement as well, which will cause a continual odor until the problem is resolved.
How to Get Rid of Smells With a Dehumidifier
Whether you live in an area with high humidity, near a body of water, or you have a vacation cottage that you only use a few months out of the year, a stale or musty smell indoors is practically inevitable. The odor can even become trapped in the furniture over time — moist air holds onto smells, and that moisture and odor end up clinging to all sorts of surfaces, including mattresses, upholstery, dresser drawers, window coverings, and even the clothes in your closet. Running a dehumidifier will help remove these odors.
A portable dehumidifier sucks the excess moisture out of the air and deposits it into a tray or sends it through a hose and into a drain. When it's humid outside, the humidity levels indoors naturally rise as well. Excess humidity is more noticeable when you aren't running an air conditioner or a heater, as these devices also dry the air.
A small, portable dehumidifier (we recommend the Pro Breeze Electric Mini Dehumidifier) is best at removing odors from one room, but it won't de-funk the entire house. If you live in a humid area, a whole-house dehumidifier will be more effective at keeping the air free of musty odors by removing moisture from the air throughout your house. A whole-house dehumidifier, like this one from AprilAire, connects to an existing forced-air HVAC system and typically uses the same ductwork.
Tip
Dehumidifiers can act like air purifiers as long as they have quality air filters (and you change them out on a regular basis). Even if you don't need a dehumidifier to get rid of an unpleasant smell in your home, consider getting a dehumidifier to improve air quality and remove pollutants and allergens like dust mites from your indoor air.
How to Use a Dehumidifier
If you opt for a whole-house dehumidifier, a qualified HVAC technician can install it for you and show you how to operate it. You can install a portable one yourself, however, and they are easy to use. Here's how to use a portable dehumidifier:
Set up your dehumidifier as instructed in the user manual. Many come ready to use right out of the box. Others may require installing an air filter or removing protective packaging materials prior to use.

Connect a drain hose and extend it to a drain if you plan to let the dehumidifier drain itself constantly. If a drain isn't readily available or if you prefer not to let it drain continuously, position the water collection bucket within the unit.
Plug in the dehumidifier, and it's ready to use. When running it, keep an eye on water bucket to learn how quickly it fills (if you're not using a drain hose), and empty the bucket as needed.
Maintain the dehumidifier as recommended by the manufacturer. This includes periodic cleaning, including cleaning the cooling coils, and replacing air filters as needed. Use warm water, baking soda, white vinegar, and nontoxic cleaning products to get the job done. Clean mold and grime buildup with bleach as needed.
Warning
Turn the dehumidifier off when the indoor air temperature drops below 60 degrees Fahrenheit. Failure to do so could result in water freezing on the unit and potentially damaging it.
Where Should I Place My Portable Dehumidifier?
For the best results, you should put your dehumidifier as close to the source of the moisture as you possibly can. For many homeowners, this means putting the appliance in a damp basement. For others, it may mean placing the dehumidifier in a bathroom, kitchen, or laundry room that lacks an exhaust fan. Place the dehumidifier as close to the moisture problem as you can.
Tip
Any dark space without ample airflow is far more likely to harbor lingering musty smells. Whenever possible, open blinds and windows to light up and air out the stinky spaces in your home. Sunshine and fresh air kill bacteria and help eliminate odors.