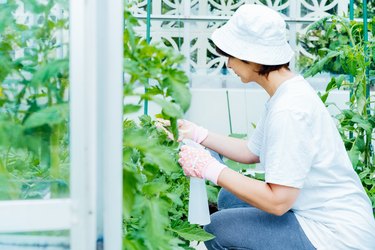 Boric acid is a powder derived from boron, a naturally occurring element. You can make a boric acid liquid spray from powder to use as an insecticide and fungicide. Although it's considered a weak acid, use caution when mixing and applying boric acid powder and sprays in and around the home.
Boric acid and borax are both derived from boron. Boric acid is used in a variety of products, including those for pest control and medicinal uses, while borax powder is used around the house for cleaning and doing laundry. It's also used as a pesticide and a fertilizer in the garden. Boric acid disrupts the digestive and nervous systems of pests when ingested and works best on insects that groom themselves and each other, like ants and cockroaches.
Whether you're using boric acid or borax, avoid breathing or ingesting the powder. Put on a dust mask, safety goggles, and gloves when mixing solutions or puffing boric acid powder into cracks and crevices to kill ants and roaches. Keep children and pets away from the treated areas.
Make a Boric Acid Liquid Spray
To make a boric acid liquid spray from powder to fight ants and flying ants, mix 1 tablespoon boric acid powder and 1 cup water in a spray bottle. Shake it up and then spray the path the ants are following into and throughout your house. The spray will mask the scent trail and make it harder for the ants to follow it into your home.
Boric acid can also be used to kill mold. Put on protective gear and then add 1 cup 12 percent hydrogen peroxide, 1 cup warm water, and 2 to 3 tablespoons boric acid powder to a spray bottle. Mix well and then spray and saturate the moldy drywall or grout with the solution. Reapply in two to five minutes and allow the solution to work for 30 minutes.
Use the same boric acid solution to remove mold from the treated area. Wet a rag or microfiber cloth in the solution and wipe off the mold. After removing the mold, spray the entire surface lightly with the boric acid solution, using just enough to dampen the area. Use a fan to circulate the air and ensure that all surfaces are fully dry.
Use Boric Acid Powder for Bugs
Boric acid powder is available in "puff" containers, small bottles, canisters, and bags. Puff the fine powder into cracks and crevices in the kitchen, laundry room, and bathrooms as well as under sinks, behind drainpipes, and in other areas where ants, fleas, cockroaches, silverfish, and water bugs (also known as American cockroaches and palmetto bugs) hide. Avoid using boric acid powders on countertops, on food preparation areas, or near pet bowls. Vacuum excess powder in 24 to 48 hours.
To make an ant-attracting poison that the ants will carry back to the nest, mix a solution of 1/2 to 1 teaspoon boric acid powder, 1/2 cup sugar, and 1 1/2 cups water. Pour the solution over cotton balls placed in a recycled plastic container with ant- or roach-size holes punched in the sides and top. Place the container where the insects enter the home or along an ant trail. Alternatively, you can purchase Terro liquid ant baits, which contain a borax-based liquid bait that works in a similar manner.
Cockroaches are attracted to foods like peanut butter. Slightly melt a tablespoon of peanut butter and then mix in 1 teaspoon of boric acid powder. Put the mixture into bottle caps or smear it on recycled plastic lids and place them where roaches will find the do-it-yourself bait stations, such as under and behind cabinets, but where children and pets can't access the traps.