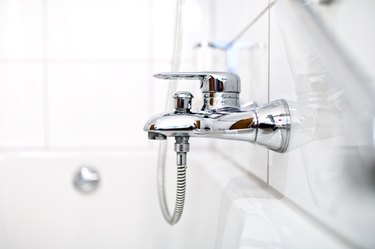 If you are not using your bathtub, would prefer a shower or just want a more updated bathroom, consider converting your tub into a shower. Doing it yourself can save you a lot of money and provide a more luxurious, more accessible option. Hiring a contractor to do this can be cost-prohibitive, while doing it yourself can vary in price dramatically, depending on your choice of building materials and finishes.
Take in the overall picture as you plan this project. The new shower has to be practical for your lifestyle, so think about who will be using it. The bathroom's layout will also dictate how the shower will fit into the room. The simplest way to convert a tub to a shower is, of course, to extend the plumbing, add a showerhead and hang a curtain, but you may want more than that.
The National Association of Home Builders reports that most homebuyers want at least one bathtub in a house. Therefore, you could change the master bath's tub into a shower and keep the second tub in the second bathroom for resale value. It's also important to never build a shower stall with a window in it since the water can easily make the window leak.
Once you hammer out these details, decide on how much money you can afford to spend, choose the type of conversion and gather up your tools.
Working safely is always an important consideration, so turn off the main water shutoff valve before starting and use personal protective equipment like thick gloves and goggles. Cover your floor and start on the tub by unscrewing and removing the knobs, faucets and drain covers. Then, go into the tub's access panel to disconnect the drains. This may need to be done from your basement if you have one.
Tile can be removed by scoring its grout with a utility knife; it can then be pried off with a putty knife. Check and mark off any studs in the wall; then use a drywall saw (for drywall) or a reciprocating saw (for plaster) to take down the wall. Now you are ready to install the new shower.
Shower stall kits work well when you are replacing bathtubs in alcoves. Once the tub is out, the space should measure approximately 5 feet wide by 30 to 34 inches deep. You will also need 80 or more inches of height, plus 15 inches or more from the shower wall to the front of the toilet.
The drain lines and water supply should already be where you need them. Most shower stall kits are made out of fiberglass or acrylic with skid-proof floors, curbs, premade sides and drain holes. They can also have hinged glass doors, along with upgrades like built-in shelves and seats. An examination of the Home Depot website suggests that, as of 2020, you can expect to pay $200 to $2,000 for the kit, depending on the type you choose.
Tiled shower walls are a higher-priced option, but you get to pick the size, tile and fixtures for your new shower, making them an appealing option. You may also need to remove and replace fixtures, carpentry and plumbing pipes; this will add to your cost.
Still, if you DIY a tiled shower, it is much less costly than hiring someone. Check out plumbing and tile supply discount stores and shop around until you find items within your budget. Be sure to learn about the proper way to pour or install a shower pan and how to waterproof, as tiled showers installed incorrectly can lead to disastrous leaks.
---
Danielle Smyth is a writer and content marketer from upstate New York. She holds a Master of Science in Publishing from Pace University. She owns her own content marketing agency, Wordsmyth Creative Content Marketing, and she enjoys writing home and DIY articles and blogs for clients in a variety of related industries. She also runs her own lifestyle blog, Sweet Frivolity.