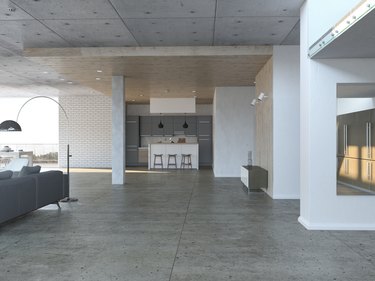 Concrete flooring is becoming more common due to its durability and versatility. It's a great choice for outdoor areas, such as patios, but is also common for basement floors and walls since concrete is used as the foundation of most houses. A big aesthetic downfall to concrete is the dull gray color in which it comes.
Luckily, there's a solution to this simple problem and that's to paint the concrete any color that suits your style preferences. The type of paint that will be used depends on where your concrete surface is located, how frequently it's walked on, if items get moved around on its surface a lot and what kind of weather conditions it has to endure.
Selecting the Paint
Latex paint and epoxy enamel paint are the two most common choices when selecting paint to use on concrete. It's important to select a paint that won't fade or wear down over time and won't easily chip or crack. Latex acrylic paint for concrete floors would be the best choice for indoor concrete but not for any high traffic areas. Outdoor concrete would weather best with an epoxy paint finish because it's able to withstand any harsh elements it may encounter, including vehicles.
Prepping the Floor
Before you jump in and start slapping paint on the concrete, if you want it to stay nice for a long period, the concrete needs to be properly prepared for the painting process. If the concrete has a previous layer of paint already on the surface, try and remove as much of the chipping paint as possible using a paint scraper or wire brush. If the concrete isn't smooth, quickly sand the entire surface with 100-grit sandpaper. Make sure to clean up all the dust and chips of paint that these two steps will create.
If there are any crevices, cracks or holes in the concrete, they must be filled with mortar and made smooth with a trowel. The mortar must be completely dry before you can clean the surface. Cleaning the surface is important to remove any type of stain from rust or grease using a cleaner/degreaser that's made specifically for concrete cleaning. Finish the process by mopping the floor with soap and water, and allow the floor to dry.
Applying the Paint
To ensure that the surface is as smooth as possible, it's best to apply a concrete primer before the actual paint is applied. The primer will help to fill any gaps you might have missed in the concrete and provide a good base coat for the paint. To paint the concrete, do the edges of the concrete first with an angled brush so that when you begin to use the roller brush for the center of the floor you won't hit the walls.
Stain vs. Paint
Paint is a great option to cover up a concrete surface. There's a vast selection of colors that can be chosen and it creates an opaque finish, giving the concrete a very uniform look. If paint doesn't seem like a great idea, you might want to consider a concrete stain. The stain will have a more translucent finish, and the bonus is that stains come in lots of different colors. Concrete is made up of different compounds, so the stain elements will attach themselves to different compounds in the concrete, giving your floors a unique yet colorful look.