Things You'll Need
Waterproofing concrete and masonry paint

Masking tape

Concrete and masonry cleaner

Plastic paint tray

Nap paint roller

Extension handle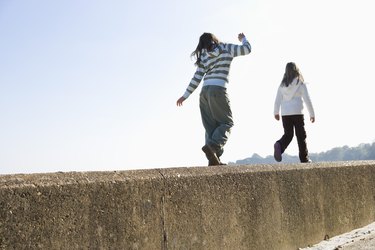 Not only will painting spruce up dull exterior concrete retaining walls, but it will also aid in protecting them against the elements, such as moisture. Furthermore, painting concrete walls is a relatively simple process done in the same manner as painting interior walls. The most important aspect of painting retaining walls is choosing the right type of paint. Using the wrong paint will let moisture into the retaining walls, which will cause extensive damage to the concrete.
Step 1
Choose a waterproofing paint designed for concrete and masonry surfaces. Check the label of the paint to ensure it states you can use it for retaining walls.
Step 2
Place several pieces of masking tape in various locations on your wall and pull each piece of tape off abruptly. If no concrete comes off, you can paint the retaining wall.
Step 3
Clean the retaining wall with an approved concrete and masonry cleaner. Let the wall dry completely before continuing. Open the paint can and stir the paint with a wooden stir stick for several seconds until it's mixed well.
Step 4
Pour the paint carefully into a plastic paint tray. Store leftover paint with the lid on the can, in a cool, dry location.
Step 5
Secure a nap roller onto an extension handle. Roll the paint roller in the paint tray until it's completely covered with the paint.
Step 6
Start at the top of the retaining wall and apply the paint to the concrete, moving downward. Make sure to cover all pores or voids in the concrete retaining wall.
Step 7
Let the paint dry on the retaining wall for one hour. Touch the paint with your fingertip. If the paint is still wet, wait another hour. Continue with the remaining step after the paint is dry.
Step 8
Reapply the paint to the concrete for a second coat and let it air dry. If leaking still occurs after the second coat dries, apply a third coat to fill any open pores.
Tip
Do not paint fresh concrete. It needs time to cure before you can paint it.
Paint exterior concrete on a warm, sunny day when there is no chance of rain.
---
Amanda Flanigan began writing professionally in 2007. Flanigan has written for various publications, including WV Living and American Craft Council, and has published several eBooks on craft and garden-related subjects. Flanigan completed two writing courses at Pierpont Community and Technical College.