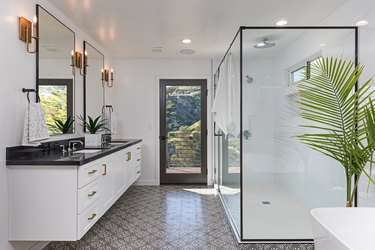 Acrylic shower bases are made from pressed sheets of acrylic plastic formed in a hot mold process. This single sheet of shaped plastic can be refinished using a number of specific products designed for plastic. Particular methods of refinishing make these products even more effective, so application is a big factor in each product's success. With some preparation and the ideal product, you can paint an acrylic shower base.
Acrylic Shower Base Paints
Paints designed specifically for acrylic shower refinishing are your best bet in most cases. These products are specifically designed for painting shower bases. The paint is made to adhere to the shower base. These paints also have very specific instructions on how to apply the paint, which helps you to properly adhere the paint and have a successful outcome. For instance, most acrylic shower bases need plenty of sanding to create a textured surface that allows paint to adhere.
Hardware stores carry many different brands of tub refinishers, so find one that is designed for acrylic tubs. Some retailers that carry acrylic tub and shower base paint or refinishing kits include Home Depot, Amazon and Walmart.
Tub Epoxy Paint and Sealer
Tub epoxy is a paint specifically made for tubs. Generally used for fiberglass and acrylic tubs, it adheres very well to the slick surface of the acrylic, because it is part resin and adhesive, whereas regular wall paint has no adhesive content.
Tub epoxy hardens when it dries to form a very water-resistant barrier, but it applies just like regular paint with a spray can or roller and brush. Before applying epoxy, it's advisable to scuff the surface of the tub so that the epoxy adheres well.
Gelcoat for Refinishing Tub
A gelcoat is a different type of coating that forms a shell when dried that is very hard and impermeable. Gelcoats cover boats and yachts, along with several types of acrylic and fiberglass tubs. If your acrylic tub has a gelcoat, another gelcoat application will revive the finish and make the shower base look brand new again.
Working with gelcoat is complicated, as the surface must be prepped and the gelcoat applied with a spray gun, but the result is a smooth, bright and reflective finish. If the tub surface has paint on it, the paint will need to be removed before applying gelcoat to an acrylic shower base. With surfaces that are gelcoat, you must sand the surface with sandpaper that is 150 grit. Then you thoroughly clean the surface, at which point you can apply the new gelcoat.
A number of sealers will protect your paint from water damage and even stain buildup; however, some may create a slippery surface on your shower base. Clear coat sealers will create a slick surface, so they must contain some kind of nonskid material like sand grains or include a rubber pad over the sealer. Acrylicized polyurethane is another professional coating and sealer used in acrylic tub refinishing. This product protects epoxy and enamel finishes applied to shower bases.