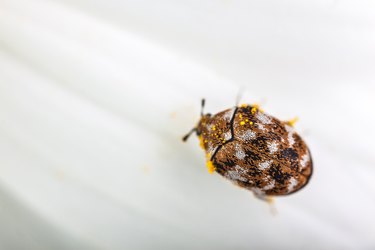 If you notice tiny bugs in your carpets or furniture that look like maggots, they're most likely carpet bugs. These household pests can wreak havoc on your living space if left unchecked. Not only can they ruin your carpets, but they can also damage your furniture, bedding, and clothes while they feed on natural fibers, like wool and silk.
Unlike maggots, who have conical, tapered bodies, carpet bugs are tiny oval-shaped insects. Also known as carpet beetles, carpet bugs' bodies are brown with white and tan stripes. Their most notable feature is their hair — carpet maggots' backs are covered in hairs that make them look almost like a caterpillar.
These insects sometimes infest carpets because they feed on organic fibers, like wool, felt, fur, silk, skins, and leather.
How to Identify Carpet Bugs
Step 1: Look for Holes in Fabric
The most telltale sign that you have a pest problem is holes in fabric, whether they are in your clothes or in the fabric of your upholstered furniture. Because carpet beetles eat natural fibers, they often live in fabric furniture or inside carpets. Get up close and personal with your area rugs, flooring, and baseboards and look for holes or other damage. Inspect all the fabric you can, including on the undersides of your furniture. If you notice damage, you could have a carpet beetle problem.
Step 2: Check All Nooks and Crannies
Don't forget to check for damage (and live bugs) in all of your home's corners and closets. Pay special attention to out-of-sight places and look for small oval-shaped bugs a few millimeters in length. If you suspect you have a problem, check everywhere, even taking the time to look through neglected pantry items and pet food bags where the bugs could be hiding.
Adult carpet bugs can fly, meaning they can move from room to room and infest your home rather quickly. Typically, females lay their eggs near light sources, so be sure to check for bugs near windows and lamps.
Step 3: Inspect Fabrics Thoroughly
Carpet bugs can burrow and find their way into the depths of your furniture or carpets, meaning you may not notice them without a thorough inspection. And if you find carpet bugs in one area, that doesn't necessarily mean you've found them all. Be sure to inspect all of your fabrics — carpets, clothes, furniture, and the like — to look for carpet bug larvae and adults.
If you don't have fabrics made from natural materials, that doesn't mean the coast is clear. Carpet bugs are also attracted to dead insects, pet food, lint, soiled clothing, and crumbs.
Step 4: Look for Larvae and Adults
Carpet bugs living in your house may be in the larvae or adult phase (or you may have both). To identify carpet bugs, you should know what both larvae and adult bugs look like.
Larvae are slightly larger than adults. Sometimes referred to as "woolly bears," carpet bug larvae are covered with tufts of hair that they extend upwards when disturbed.
Adult carpet bugs are slightly smaller than larvae and have more pronounced brown and tan coloring. Plus, they have wings and can fly, which makes them easy to identify.
If you see either of these, you can spray them with an insecticide to kill them. If you have kids and pets, make sure the product you use has nontoxic ingredients. If there are harmful chemicals in your product, keep your kids and pets away from the sprayed area until you can clean it up.