Things You'll Need
Screwdriver

Scissors

Rubber mallet
Tip
Do not adjust the length of the blinds by pulling on the lift cord since you have already altered the length. Only do this if you want to let more light in the window.
You can also vary the number of ladders you put through the hole in the bottom rail. If you think you may increase the length of the blinds again, because you are moving them to another window, do not cut the string and instead stuff the excess through the bottom rail.
If you have Levolor Cellular blinds and not slat blinds, adjust the length by lightly pulling down on the bottom rail to lengthen the blinds or pushing up to shorten them.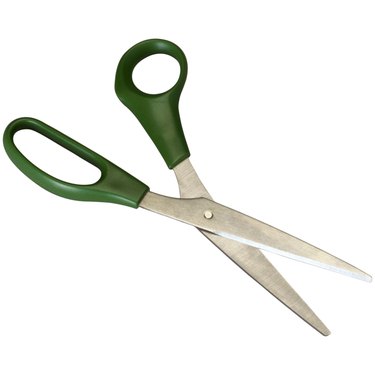 Levolor blinds are similar to other manufacturers' window treatments in that they may need length adjustments, even if they are custom fit. Although you can adjust the length of horizontal blinds by simply pulling on the lift cord, it creates a neater appearance to alter the length of the blinds. You can shorten horizontal slat blinds to window length yourself, and it takes just a few basic materials.
Step 1
Figure out the length you would like the blinds to be adjusted to. The bottom rail of the blinds should rest on the window sill for a neat appearance.
Step 2
Pop off the plugs on the bottom rail with a screwdriver so that you can see the cord. Untie the cord and straighten it out in front of you. Slide off the bottom rail.
Step 3
Remove the number of slats you need to for the desired length. Pull the slats out of the ladder strings that are holding them.
Step 4
Place the bottom rail back into the last ladder string just below the lowest slat. Snip the ladder string with scissors, leaving 2 or 3 inches below the bottom rail so that you have enough cord to place through the bottom rail.
Step 5
Feed the two lift cords through each separate hole in the bottom rail and secure each with a double knot. Inspect the length of the blinds for proper hanging. Make adjustments if necessary.
Step 6
Alter the length of the lift cord by raising or lowering the knot in it. Use a rubber mallet to lightly pound the plugs back in place on the bottom rail.
---
Dianne Christensen-Herman
Dianne Christensen-Hermance is an accomplished journalist with more than 10 years experience in writing news and feature articles for newspapers. She is a freelance writer for The Muskegon Chronicle in Muskegon, MI, and Demand Studios. She has a Bachelor of Science degree in journalism from Grand Valley State University.