Things You'll Need
Measuring Tape

Pencil

Level

Drill

Installation brackets

Phillips Screwdriver

Screws

Blinds
Tip
Hold the blinds over the door window to make sure you like the placement before you drill holes.
Warning
If you drill too deep into the door, the brackets will not hold.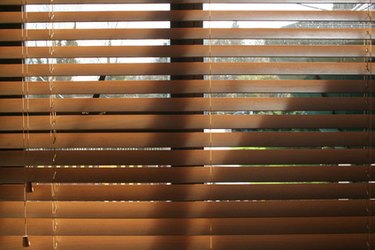 Though a door may limit the way you install your blinds, it's not impossible. You can't use an outside mount since it will restrict the door's movement, and you can't install an inside mount on the door since most doors do not have enough space, but you can install an outside mount-type style on the door itself.
Install the Brackets
Step 1
Measure 2 inches from the outside of either side of the window. Mark with a pencil. Find the center of the window. Measure 2 inches above the window in the center. Mark that spot.
Step 2
Use a level to check the markings.
Step 3
Drill holes in the three places above the window.
Step 4
Place the brackets over the holes and put the screws in the bracket holes.
Install the Blinds
Step 1
Hold the headrail of the blinds so that the front is facing you.
Step 2
Slide the headrail into the brackets.
Step 3
Snap the headrail into place. You'll have to apply pressure and you'll hear a click when they're in properly.
---
Lee Foster is a Colorado-based fiction and nonfiction writer. She contributes to online magazines. She studied writing at the University of Colorado at Boulder. She's been freelance writing since 2008, and writing for Demand Studios since 2009.