Things You'll Need
Tape measure

Adjustable roller shades

Fine-tipped marker

Transparent tape

Flathead screwdriver

Utility knife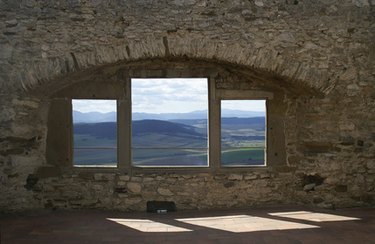 Roller shades typically come in two sizes, which drastically lessens the chance that you will find a shade that fits your window without needing to be cut. If you do not have the measurements of your windows on hand at the time of purchase, buy an adjustable-size window shade, take it home and cut it to size in less than 10 minutes.
Step 1
Use a tape measure to find the width of the window between the mounting brackets. This will tell you the exact size the roller shade should be cut.
Step 2
Mark the desired length on the roller shade using a fine-tipped marker. Roll up the shade completely and place the tape measure at the end of the shade plastic and measure toward the opposite end. This will eliminate the possibility of taking a wrong measurement caused by using the brackets.
Step 3
Tape the roller shade using a small piece of tape. This will keep the shade closed so that it does not unroll during the process.
Step 4
Insert the tip of the screwdriver under the bracket on the end which will be removed. Gently tilt the screwdriver to pop off the plastic end.
Step 5
Use a utility knife to cut a small section of the roller shade at the mark you drew. This cut should be at the bottom of the roller shade so you can easily unroll the shade.
Step 6
Grab the side of the shade beyond the measurement that will be removed and pull it around the roller shade. The self-sizing roller shades allow you to continue to unroll the shade easily without creating a crooked line.
Step 7
Unroll the shade until the center bar is exposed. Rip the unrolled section of the shade off the center bar.
Step 8
Cut a ring around the center bar with the utility knife. Press the side of the blade against the edge of the roller shade to create a straight line.
Step 9
Peel the cardboard away from the center bar. This will expose a metal tube, which you should press back into the roller shade using your hand.
Step 10
Replace the shade bracket by popping it back into the center bar and tapping it on a hard surface until it is completely inside. Hang the roller shade and remove the tape.
---
Nicole Byerly has been writing since 2003. She has published multiple works that have appeared in "Campus Philly." Byerly is pursuing a Bachelor of Science in cybersecurity at Utica College.