Things You'll Need
Grease pencil

Step stool

Measuring tape

Self-drilling metal screws

Electric screwdriver
Tip
Lift the blinds to their topmost position before beginning so that they are easier to work with.
Warning
Do not use self-tapping screws or screws made for wood. They will not securely hold the blinds in place.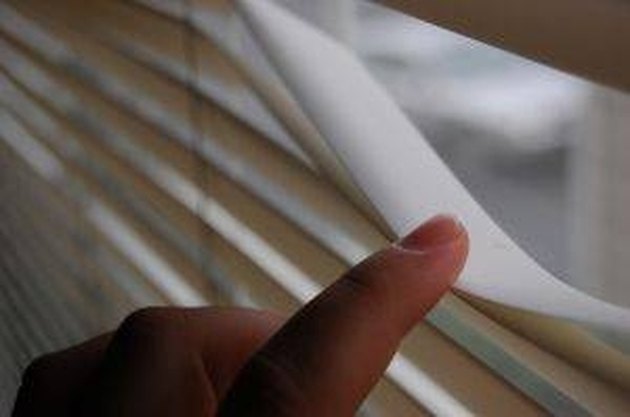 Most blinds are designed for installation in wood window frames, but that doesn't mean you can't install them in a metal frame window. The most important difference is that you will need to use screws designed for metal rather than the wood screws supplied with the blinds.
Step 1
Place the brackets over the ends of the blind and then hold the blind inside the window frame in the location where you want to install it. Make sure the blinds will not bump or rub against the window. Use a grease pencil to mark the edges of the brackets. Set the blind aside.
Step 2
Measure the top of the grease pencil markings inside the window frame. Make sure that they are both evenly spaced from the top and back of the window frame. Use the pencil to make a small mark at the point the top and back of the brackets should be from the top and back of the window frame.
Step 3
Hold a bracket inside the window frame, lining it up with the grease pencil markings. Use the pencil again to mark the screw holes of the bracket inside the window frame.
Step 4
Start a screw into the bracket and metal window frame, holding the bracket firmly against the frame and lined up with the markings. Only turn the screw in about three-quarters of the way and then, making sure the bracket is still lined up with the markings, start another screw.
Step 5
Repeat Step 4 with all the screw holes in the bracket. After starting the final screw, tighten all the screws completely. Repeat the process with the opposite bracket.
Step 6
Insert the blinds into the brackets. Snap them all the way into the brackets, making sure they are snug. Then, slide the bracket covers over the front of the brackets.
---
Carlye Jones is a journalist, writer, photographer, novelist and artisan jeweler with more than 20 years of experience. She enjoys sharing her expertise on home improvements, photography, crafting, business and travel. Her work has appeared both in print and on numerous websites.