Things You'll Need
Safety goggles

Measuring tape

Step-stool or ladder

Variable-speed drill

Masonry drill bit

Masonry wall anchors

Hammer

Screwdriver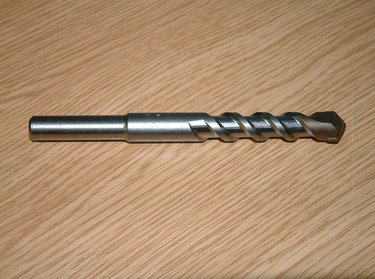 Hanging curtain or drapery-installation hardware on brick, stucco or concrete block walls can be challenging if you are not equipped with proper tools and hardware. The installation is essentially the same as a drywall application, so should not trip up anyone who has installed curtain hardware before. With proper tools and anchors, you can install curtain-mounting brackets to dress windows set in concrete walls in minutes.
Step 1
Position the curtain-mounting hardware on the concrete wall where you want it installed. Measure to make sure each bracket is at the same height so your rod will be level. If you are hanging the curtain higher than shoulder-level, use a step-stool or ladder. Pass the tip of a pencil through each of the screw-holes in the mounting hardware to mark their positions on the wall.
Step 2
Secure a carbide masonry bit in the drill. The bit should be just large enough to make a hole that will snugly accommodate the wall anchors. Put on safety goggles.
Step 3
Place the tip of the bit on the reference mark that you made on the wall. Hold the drill so the bit is horizontal. With the drill set on slow speed, drill a pilot hole into the concrete that is slightly longer than the wall anchor. Press or gently tap the wall anchor into the pilot hole with a hammer so its opening is flush with the wall. Repeat to drill pilot holes and install the other wall anchors.
Step 4
Position the curtain mounting bracket so the screw holes are aligned with the holes in the wall anchor. Pass the tip of the mounting screw through the bracket and into the anchor. Tighten the screw and repeat to securely attach the remaining mounting brackets. Once all of the brackets are installed, hang the curtains onto the rods and hang the rods on the mounting brackets.
---
Denise Nyland "Denisen" is a long term resident of Panama City, Fla. She studied radiologic sciences and education and has published articles in multiple professional journals and contributed to various educational texts.