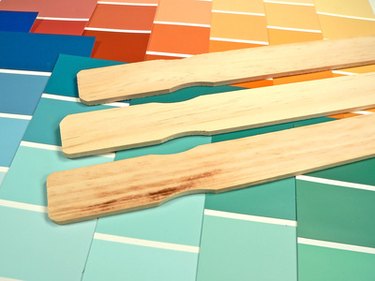 The finish of your paint can affect the way the color appears when it is applied, as well as the paint's durability. The terms "matte" and "flat" are often used interchangeably. However, there are some differences to consider when choosing between these finishes.
Matte
According to Better Painters, matte finish paint is sometimes referred to as suede or velvet finish. Matte finish paint is low-gloss, but usually has more shine than flat finish paint. The small amount of gloss in matte finish paint gives it the ability to cover imperfections, while still being easy to clean.
Flat
Better Painters defines "flat" as a paint finish with no shine at all. This means the paint does not reflect light, making it a good solution for masking imperfections or irregularities on walls, ceilings, or other surfaces. Better Painters also notes that it is easier to add touch-up coats to flat finish paint, because it blends in better than with paints having a glossier finish. Most flat finish paints today are labeled "washable" and will hold up to mild cleaning.
The Downside
According to Better Painters, there is no industry standard for uniformity for paint finishes. This means that what one paint manufacturer calls "matte" may resemble the "flat" finish of another manufacturer, or vice-versa. The best way to make sure you are getting the finish you want is to purchase a sample and test it on the desired wall or surface.
---
Kelly Smith has been writing professionally since 2010. She writes for various websites, specializing in health and literature. Smith is a certified pharmacy technician with more than five years of professional experience. She holds a Bachelor of Arts in English with a minor in multimedia communications from Regent University in Virginia Beach, Virginia.