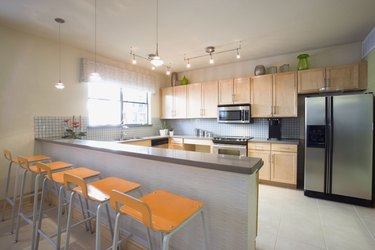 When cooking your favorite dishes, it's important that you have proper task lighting, and that's especially true over the stove. Proper cooktop lighting ensures you can see what you're doing so you don't burn your food. Pendant lights are a very popular kitchen lighting option. However, if you're considering mounting a pendant light over your stove, you must keep a few factors in mind.
Pendant Lights in the Kitchen
By definition, a pendant light is a fixture that's suspended by a chain or cord from the ceiling. It provides focused light, typically from one bulb. In the kitchen, pendant lights are most commonly installed over islands or seating areas. They add a decorative touch, and they bring the light closer to those work surfaces so you can see what you're doing clearly.
Pendants Over the Stove
Over the stove lighting makes cooking easier by giving you focused illumination. Under cabinet lighting or a range hood with integrated lighting is a popular option over stoves. It's possible to hang a pendant light over your range, but you'll want to consider the drawbacks.
Cooking is messy and often results in lots of heat, grease and food splatters. Because it hangs much lower and closer to your stovetop than other light options, your beautiful pendant can quickly become caked in all of that cooking debris, making it look dirty and old. The heat can damage some components of the pendant fixture.
If you have a microwave or range hood over your stove, positioning a pendant light may be challenging. You can't mount the pendant too close to your range hood. But if you push it too far into the room, your body will cast shadows over the stove.
Pendant Light Mounting Height
Stoves generate a lot of heat and can splatter grease, so it's important to consider the mounting height of your pendant fixture. Most of these fixtures are adjustable, so you can determine the appropriate height. A general rule is to hang the fixture 30 to 40 inches above the surface. This clearance,at least 30 inches, is typically required by building codes for fixtures mounted above cooking surfaces.
Since it's necessary to stand at a stove to cook, the height of the person who cooks most often needs to be considered when hanging a pendant lamp. The height also affects how much light will be cast. You may need to experiment with the height and hang the fixture higher to get adequate lighting.
What Type of Lamp Do You Need?
In order to adequately light the cooking surface, choose a pendant light that can accommodate a 40- to 60-watt fluorescent bulb or a 75-watt incandescent bulb. Fluorescent light is a truer white, while incandescent light is warmer and often yellow-toned.
Your choice might depend on the ambiance you wish to create in your kitchen, but also consider that fluorescent lamps are a lot more efficient. CFLs save about 75% in energy use compared to incandescent bulbs, and you'll get about six to 15 times the life out of the CFL bulbs, according to the U.S. Department of Energy. They also produce less heat than incandescent lamps. Obviously, when you are cooking, excess heat isn't desirable.
Other Over the Stove Lighting
While pendant lights are attractive and can be used above stoves, they aren't necessarily the best lighting solution. You can use them elsewhere in your kitchen, as there are plenty of other options for lighting your stove surface.
Stoves need to be properly ventilated, so you might consider installing a vent hood that incorporates lighting. If you have cabinets above your stove, you can install under cabinet lighting. Recessed lighting, which is also available in directional formats, is another popular fixture type for task lighting. This eliminates the dilemma of how high to hang the fixture and minimizes cleaning issues.