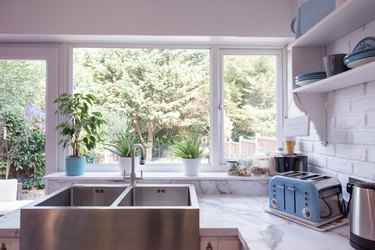 Whether you've found a well-working treasure in a thrift store that needs a little refreshing or want to step up the look of a bland toaster on your countertop, it's not difficult to paint the metal on kitchen items.
You can turn a dull metal toaster into a shining star on the countertop with a few coats of the right paint and techniques. From high heat spray paint to decals that can stand up to the temperatures that the small appliance puts out, there are many ways to change up the items that take up so much room in your kitchen working spaces.
Prepping the Appliance for Paint
Before you begin to bring up the beauty of your metal toaster with a few coats of paint, you need to put some safety measures in place. Always work on appliances when they are unplugged. Remove hardware that won't be painted or needs painting separately, such as knobs, crumb pans or other removable items.
Spread out a drop cloth, old towel or other absorbent material to soak up any errant spills or overspray from paint. This will create a clean work surface where you can lay out all your tools and paint products as well. An organized work space cuts down on rooting around for brushes or that new can of sealant you bought while the project was in mid-production.
Work in a well-ventilated area with safety gloves, a paint mask and safety goggles to protect yourself from fumes that can irritate your eyes, skin and lungs. Only paint on dry metal that has been properly prepped.
Choosing the Best Appliance Paint
Using the right paint can save you money and time, with the cost of sprucing up a dingy toaster oven or stand mixer at around $20 and completed in under an hour. A coat of appliance epoxy paint can hide nicks and dings after one coat of the self-priming paint.
When using regular spray paint on small appliances that have many moving parts, such as a stand mixer, or tend to emit high heat, then you'll need a solid sealer. Apply a clear enamel gloss protective spray evenly over the toaster after the paint coats are completely dry.
High Heat Spray Paint
It's called many things, from heat resistant to high heat and heat temp paint spray. Using high heat spray paint on appliances that can become hot when in operation can keep the paint job from bubbling. A high heat spray finish cuts down on thermal fatigue, according to Go Paint Sprayer, which means all your hard work to create a perfect finish on your toaster will last longer.
Tips on Painting Toasters
Clean the toaster well to remove any caked-on grease and dirt. You may want to do this at least three times to really get the appliance sparkling clean. The cleaner the toaster is, the better the paint will adhere to the surface. Whether you're using spray paint or brush paint, make sure to prevent any paint particles from entering the interior of the toaster by sealing the openings while working.
Rinse the appliance well and allow it to dry thoroughly. Rough up the toaster surface with 150-grit sandpaper before you begin to paint. Rinse and wipe the appliance again before painting so that no metal dust from the sanding finds its way onto the surface. This can create an uneven finish.
---
Kimberley McGee is an award-winning journalist with 20+ years of experience writing for a variety of clients, including The New York Times, Las Vegas Review-Journal Home section and other national publications. As a professional writer she has researched, interviewed sources and written about home improvement, interior design and related business trends. She earned a B.A. in Journalism from the University of Nevada, Las Vegas. Her full bio and clips can be viewed at www.vegaswriter.com.