Things You'll Need
Stiff bristled wire brush

Rags

Dish soap

Water

Bucket

Tarp

2 paint trays

Paint roller

2 roller covers, 3/4-inch nap or thicker

Metal primer

Paintbrush

Metal paint
Tip
Use metal primer and metal paint for this paint job.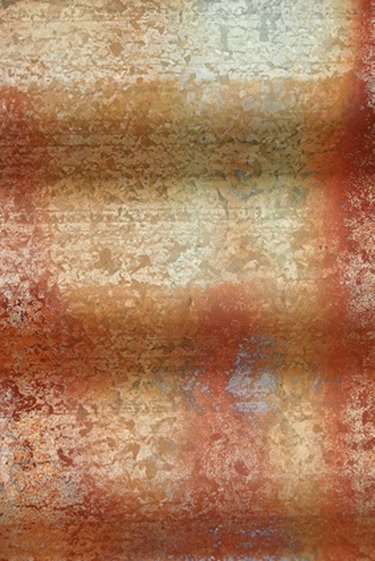 Metal roofing, including corrugated metal, can last 100 years, notes Ask the Builder. During this lifespan, it's likely to need another coat of paint to keep fresh. When you've got corrugated metal roof panels or siding, painting it yourself can seem daunting. You'll need to do prep work, but time, attention and a fresh coat of paint will do wonders for the corrugated metal on your home.
Step 1
Scratch rust off the corrugated metal with a stiff-bristled wire brush. Work the brush back and forth to remove rust spots. Wipe the flaking rust away with a dry rag.
Step 2
Mix 1 tablespoon dish soap and 1 gallon of water in a bucket to create a soap solution. Spray down the corrugated metal with water from a hose. Dip a clean rag into your soap solution, then wring it out. Wash the corrugated metal with the soap solution, wetting the rag as often as needed. Rinse the metal again once you've cleaned it all.
Step 3
Allow the metal to dry fully before continuing.
Step 4
Lay a tarp underneath the metal object (or adjacent to, for a metal wall). This will keep your painting mess to a minimum.
Step 5
Fit your paint roller with a cover that's rough and has a nap of 3/4 to 1-1/4-inch (this refers to the thickness of the cover material). Pour primer into your paint tray.
Step 6
Apply the primer to the corrugated metal using your roller. Coat the front of the metal, working back and forth in long, lean strokes. If the paint drips down the panel, you're using too much. Clean up drips with a paintbrush and use less paint going forward. Allow the primer to dry the manufacturer's recommended drying time before continuing.
Step 7
Remove your paint roller cover and dispose of it. Place a new cover of the same thickness on your roller. Fill a new paint tray with your metal paint.
Step 8
Coat the corrugated metal with the new paint. Allow the coat to dry the manufacturer's recommended dry time. Then apply another coat of paint in the same manner.
---
A successful website writer since 1998, Elton Dunn has demonstrated experience with technology, information retrieval, usability and user experience, social media, cloud computing, and small business needs. Dunn holds a degree from UCSF and formerly worked as professional chef. Dunn has ghostwritten thousands of blog posts, newsletter articles, website copy, press releases and product descriptions. He specializes in developing informational articles on topics including food, nutrition, fitness, health and pets.