Things You'll Need
Broom

Concrete primer

Paint roller

Interior oil-based paints in 4 colors

Several high-quality paintbrushes

Natural sponge

Fine paintbrush

Paintbrush with flared bristles

Satin polyurethane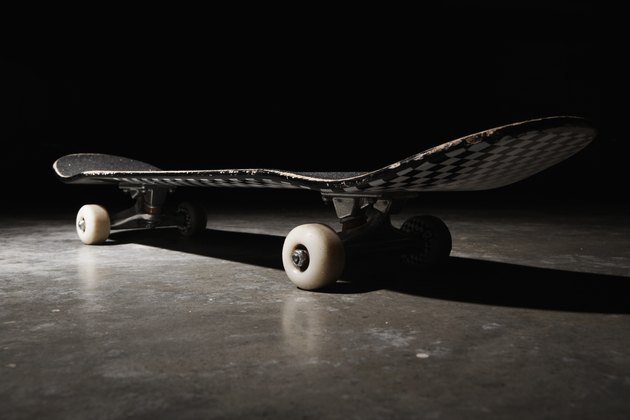 Finishing a concrete floor to look like marble gives the appearance of a more expensive stone, without the hassle that having marble floors entails. Concrete floors offer stability that other floors can't, and all that is required to take care of the painted concrete floor is an occasional sweeping and mopping. Before you begin, choose several colors of paint that complement and contrast one another.
Step 1
Sweep the concrete thoroughly to clean the floor.
Step 2
Paint the floor with a concrete primer using a paint roller, making sure the primer covers the floor completely. Allow the primer to dry thoroughly, according to the manufacturer's directions. Drying time can vary from brand to brand.
Step 3
Using the paint roller, paint the entire floor with the base color you chose. Allow the base coat to dry according to the manufacturer's specifications.
Step 4
Choose a complementary color to your base coat. Kneel on the floor with the base coat and the second color nearby. Using paintbrushes, apply the two colors to the floor in unequal amounts. Mix the two colors until they blend but still have distinct streaks and splotches. Do not allow the paint to dry completely.
Step 5
Apply a third color, different from the two colors in Step 4, but complementary to them, by dappling it on with a natural sponge before the paint you have already applied is dry. Dappling is achieved by dabbing small amounts of paint gently on the floor.
Step 6
Using a fine paintbrush, use a fourth color of paint that contrasts with the rest in thin veins over the still-wet paint.
Step 7
Before the veins dry, use the flared paintbrush to brush back and forth across the veins, giving them a feathered look.
Step 8
Allow 24 hours for the marbled effect you have achieved to dry completely.
Step 9
Apply a coat of polyurethane with a high-quality paintbrush and allow it to dry per the manufacturer's specifications.
Step 10
Paint a second layer of polyurethane on the floor and allow it to dry. Once dry, your floor will have the look of highly polished marble.
---
Marsanne Petty has been a writer and photographer for over ten years, and is currently pursuing the combination in tandem. She attended Madison Community College, receiving a degree in Administration. She has published several articles for magazines, including Jack Magazine, and the local newspaper, the Jasper News. Her latest creation, a pictoral history of Hamilton County, Florida, was published in early 2009 through Arcadia Publishing.