Things You'll Need
Latex paint

Water

Measuring cup

Disposable bowl

Stir stick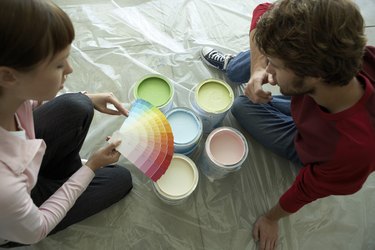 Latex glazes are very versatile and can be used in numerous faux finishing applications including antiquing, rag-rolling, color washing and combing. Due to their nature, latex glazes can be customized to suit your needs. You can choose a light-, medium- or dark-colored glaze, depending upon the base color. Higher contrast in color results in a look of more texture; if you prefer a look of less texture, choose a paint color that is closer to the base coat.
Step 1
Choose your paint color. Keep in mind that the color will be watered down, so if your base color is light and you want high contrast, pick a color a couple of shades darker than the color you want the finished glaze to be.
Step 2
Measure the paint and water into a disposable bowl, starting with 1 part paint to 4 parts water. Don't make too much at a time, as it will dry quickly; start with 1/4 cup of paint to 1 cup of water. This amount will go far, but depending on the size of your project, you may have to make more glaze to finish it.
Step 3
Mix the paint and water thoroughly using a paint stir stick.
Step 4
Apply the glaze to the base coat in a small area, using the faux finishing technique of your choice.
Step 5
Look at the result to determine if the glaze is the color and intensity you desire. You can add more water or paint to achieve the look you want. Be sure to make a note of any change in the proportions so you can make additional glaze to finish your project.