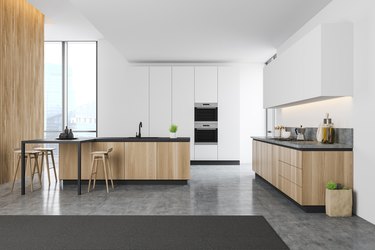 Concrete countertops provide the perfect canvas for a little artistic flair in the kitchen. Thanks to paints, integral colors, spray stains and epoxy paints for concrete countertops, you have a lot of options in terms of methodology and final appearance. Let's take a quick look at some of the different options for coloring concrete countertops, all of which need to be followed up with a concrete countertop sealer and food-grade finish for best results.
Add Integral Color
Perhaps the easiest method for "painting" a concrete countertop is to add the color before you even mix the concrete. Integral color refers to a powdered pigment that turns your entire batch of concrete a single color. If you want solid colored countertops, this is a great option. You can still follow up with spray stain over a solid base color to achieve your desired look.
Apply a Spray Stain
Do you want a mottled look on your countertops? Start with a white or gray concrete base. Sand the surface and wipe away the dust with a wet cloth. While the concrete is still wet, spray the different colored stains. Wait for the concrete to dry to see the full effect of the color, and then re-wet the concrete and add more spray stain if desired.
The downside to this method is that it can be very messy. You'll want to add plastic drop cloths around your entire kitchen to prevent the stain from getting all over the place.
Acid Wash the Concrete
To get a dark stone color that makes your counters look like slate or granite, try an acid wash. The color is contained in an acid that needs to be neutralized with a base, typically just a baking soda and water mixture, once the desired color is achieved. The acid wash can be applied with a spray bottle or paint brush, depending on the final "texture" you want on the countertops.
The acid wash method can be messy, so it's best to color your concrete countertops with this method outside and then install the finished counters later. That way, you can use a hose to rinse off excess color and easily neutralize the acid.
Painting Concrete
Concrete paint, typically reserved for patios or other floors, can also be applied to concrete countertops with a roller brush. Prep the surface by sanding the concrete and wiping it down, and then apply a concrete primer to help the paint bond. The primer should dry completely before adding the first coat of paint. Add several coats of paint for a long-lasting effect.
As with all the other methods, be sure to properly seal the concrete after painting it. The final step is to add a food-safe finish like tung oil, as recommended by The Real Milk Paint Co., since concrete paint is generally meant for floors and not for food prep surfaces.
Epoxy Paint for Concrete Countertops
Epoxy paint for concrete countertops looks glossy and marbled, giving your kitchen renovation an upscale look at a fraction of the cost. Prepare the concrete by sanding it to improve adhesion, and then wipe the dust with a wet rag before pouring on the epoxy over granite or concrete.
Different techniques for spreading colored epoxy paint for concrete countertops will yield different results. You can create a marbled effect by swirling together two or more colors or even add a bright splash of red within a grey background.
Bubbles will rise to the surface and pop, which give epoxy an effortlessly smooth and glossy appearance. Consider adding a clear coat of epoxy over the top of your concrete countertops, even if you used a nonepoxy method to color them. This clear coat gives your countertops that polished look without any actual polishing.