Tired of the dated popcorn ceiling look? Scraping all that texture off your ceiling takes a lot of work and creates quite the mess. Instead of removing it, you can cover it up with different ceiling materials. You get an updated look with less work and less mess, and you can cover up a potentially dangerous ceiling to make your home safer.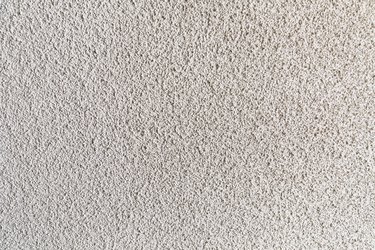 Asbestos in Popcorn Ceiling Material
Before you start any project on a popcorn ceiling, it's important to know that it could contain asbestos. Popcorn ceilings installed into the 1980s often included asbestos. You can test for asbestos with a testing kit if you're unsure of the age of your ceiling. Disturbing asbestos-containing materials in any way, including screwing into the popcorn ceiling to cover it, can send the fibers into the air, where you can inhale them.
If your popcorn ceiling contains asbestos or you're uncertain if it does, take precautions when you disturb the ceiling in any way. Cover yourself completely with old clothes and shoes you can throw away or a protective covering over your clothes and shoes. Use a respirator designed to protect against asbestos and wear disposable gloves. Seal the room from the rest of the house, and clean all surfaces well to remove any asbestos dust when you're done. Check local regulations on asbestos removal, and remember you're taking a risk by disturbing asbestos-containing popcorn ceilings.
Cover Popcorn Ceiling With Drywall
One solution to your popcorn ceiling situation is to cover it with drywall. The drywall completely covers up the popcorn texture, giving you a fresh start with a smooth finish for your ceiling. You'll need to secure the drywall to the framing. Lifting drywall over your head can be challenging, but you can rent a drywall lift to make the job easier. You can add a more updated ceiling texture to the drywall once it's installed, if you want.
Add Wood Panels or Beadboard
Looking for something more appealing? Wood paneling or beadboard gives your ceiling a fresh, updated look. Just like drywall, wood panels can go right over the existing popcorn texture. Anchor the panels to the framing to keep them secure. You can then paint the paneling or leave it a natural wood hue depending on your desired look.
Another option is to install a drop ceiling system to cover popcorn ceiling texture. This option involves installing a grid system that's lower than your existing ceiling. The grid holds tiles in place. Drop ceilings are often found in basements, but you can use them in other spaces if you like the look they create. Keep in mind this option lowers your ceiling height, so it's best in spaces that have enough extra height to spare.
Install Metal Ceiling Tiles
Metal ceiling tiles add rich color and texture to your ceiling, and they're much more attractive than popcorn texture. Metal ceiling tiles usually have raised designs on them to create depth. You'll need to install plywood over the ceiling first to give your metal tiles a secure surface. Once you install the plywood, you can nail the tiles in place to create a completely new look.
Looking for an alternative to metal? When it comes to ceiling covering, polystyrene ceiling tiles give you another option. Many of them come in textured styles with patterns similar to a metal ceiling. They're lightweight, relatively inexpensive and easy to install. And they're much more pleasant to look at than popcorn texture.
If you're on the fence about your popcorn ceiling, you may be able to give it new life with a little update. As long as the existing texture is in good shape, you can clean the popcorn ceiling and paint over it. A fresh coat of paint can spruce up the popcorn ceiling and make it look better. You can also add other features to make the room look better overall. For example, add crown molding and a popcorn ceiling instantly looks more updated.
You don't have to stick with ugly popcorn texture. Choosing one of several ceiling materials to cover up the texture gives your room a new look.