Drywall is a common choice for the interior walls of garages, but it isn't always the best one -- it has little impact resistance and even less moisture resistance. In a few years, your garage walls may be full of nicks and gouges, blackened by mold or both. You can find an array of more durable products, some comparable to drywall in terms of fire resistance, and some decidedly more stylish.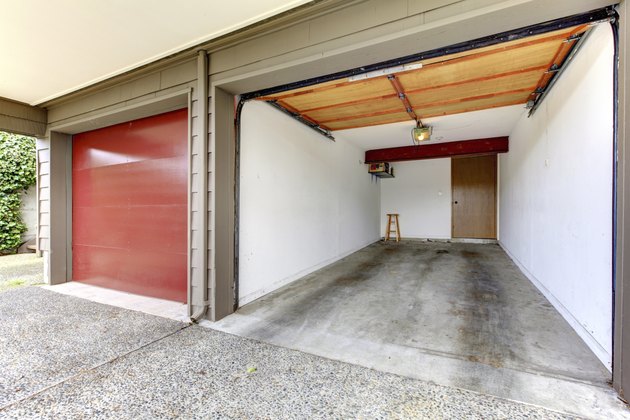 credit:
irina88w/iStock/Getty Images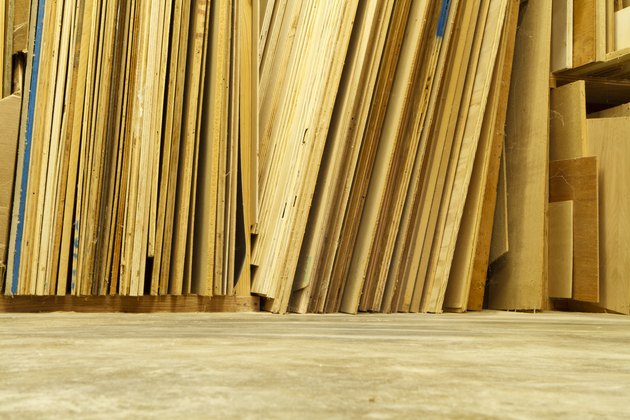 credit:
Scott Nodine/iStock/Getty Images
The 1/2-inch plywood sheathing that goes on the outside of your house and on the roof can also make a good utility covering for your garage walls. It's a wall covering that you can smack repeatedly with two-by-fours, and you won't have to be selective about where to put hooks to hang your tools. Options run from sanded, knot-free, cabinet-grade material to utility exterior sheathing with a knotty veneer to oriented strand board, a highly stable plywood alternative made from laminated wood shavings. All can be screwed to the studs -- like plywood -- and painted, if you wish.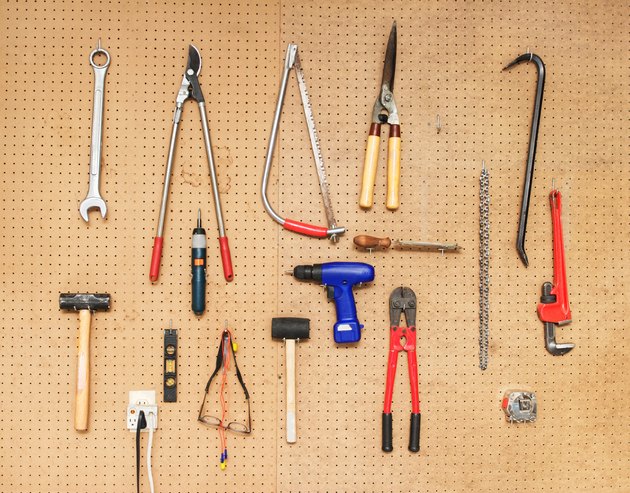 credit:
Katrina l. Grinn/Hemera/Getty Images
Fiberboard is a utility material made from wood chips that comes in various densities, and the type most suitable for garage walls is hardboard, which typically comes in sheets that are 1/4 inch thick. It's lightweight, easy to nail to the studs, and has a smooth surface that you can paint or leave as is. Pegboard is made from the same material has the same thickness, but it is perforated at regular intervals by 1/4-inch holes. Use it in the entire garage or in conjunction with hardboard to provide convenient holes for hooks. If you install either of these materials over a layer of sound-deadening fiberboard, the noise you make in the garage stays in the garage.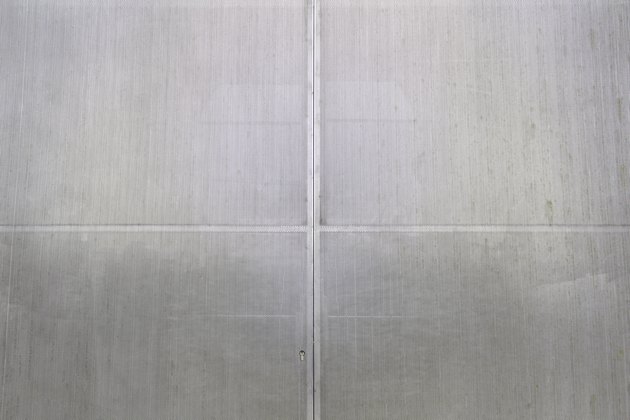 credit:
fotocelia/iStock/Getty Images
If you live in a humid climate, or you create humidity in the garage by spraying water, you may appreciate the water-resistance of stand-alone vinyl panels. Unlike thin vinyl sheets that you have to glue to drywall or cement board, these sheets are rigid and can be attached directly to the studs. They come in a variety of patterns, and are intended primarily for bathrooms, but you can readily adapt them for the garage. You might also consider interior steel wall panels, which come in 3-foot widths, are corrugated -- like metal roofing -- and create a bright, well-protected and easy-to-clean space.
credit:
Lisa F. Young/iStock/Getty Images
Before you decide to install an alternative to drywall, it's important to remember that your local building codes may require it. If any wall or the ceiling of the garage adjoins the house, the International Residential Code -- which most municipalities follow -- requires it to be covered with drywall for fire prevention. Moreover, if the garage is 3 feet or less distant from the house, all the interior walls must be covered with drywall. If you're stuck with drywall, you can dress it up and fortify it with vinyl wallpaper, which is easy to keep clean and inhibits mold penetration.