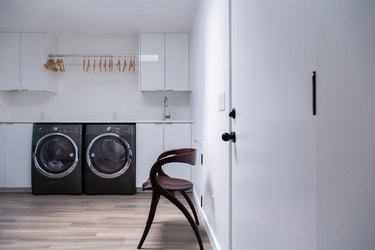 Profile washers are a popular line of washing machines sold by GE that promises users both style and lasting quality. Like all washers, they may get dirty or develop odors after a while. While the process to clean the machine is largely the same whether you have a top- or front-load machine, it's important to remember that front-load washers require the door to be cleaned regularly in order to prevent moisture buildup on the door opening.
Washing Machine Exteriors
To keep the outside of your washer clean, wipe up any spills immediately with a damp cloth. Keep in mind that control panels may be damaged by some stain-removal products, so these should be applied to laundry away from the washer. If your machine features a microphone, be sure to keep all liquids away from this part of the control panel.
Cleaning Front-Load Washer Doors
Moisture often accumulates around the door opening on front-load washers, which can cause mildew, mold, and bad odors. If left long enough, these problems can prevent the door from being able to maintain a watertight seal, which may result in leaks.
After each use, dry the door opening, the flexible gasket, the hoses, and the door glass. Proper care should prevent buildup that will cause leaks. Once a week, examine the gasket by pushing down the door gasket and looking for foreign objects trapped inside. If you find anything inside the gasket, remove it immediately and check to be sure that nothing is blocking the holes behind the gasket. At this point, you can clean the gasket with diluted vinegar or bleach and then wipe it away with a sponge dipped in warm water. When you're finished, replace the gasket in its operating position.
Cleaning the Washer Basket
Most Profile models feature either a basket clean or self-clean cycle option, but if your washer does not have one of these cycle options, you can still use the heavy load cycle to clean the machine. Cleaning should be done once a month or so to eliminate soap and fabric softener residue buildup.
To clean your GE Profile washer basket, remove all clothing or other objects from the washing machine before adding to the basket 1 cup of bleach or vinegar or the recommended amount of commercially available washing machine cleaner. GE specifically recommends Tide Washing Machine Cleaner, but other brands should also be fine. Close the lid and select either the basket or self-clean cycle if your washer has one; otherwise, use the heavy/cotton cycle. Press the start button.
Do not interrupt the cycle while it is working or you may need to repeat the process. If you use bleach, your washer may have a slight bleach smell, and if you used vinegar, the washer may smell like vinegar. This is normal. If you still smell a bleach odor after running the cycle, run the dryer on the rinse and spin cycle or only do a light-colored load for your next cycle to minimize the chance of bleach damaging your clothing.