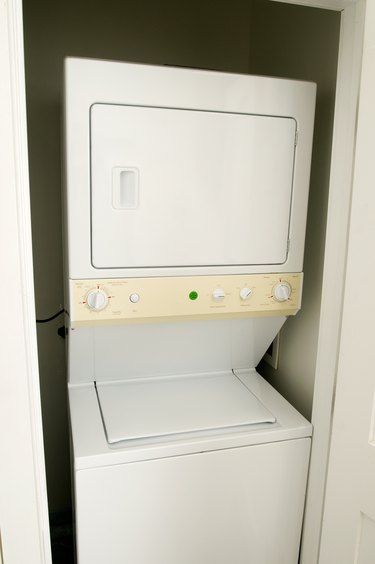 General Electric Spacemaker laundry appliances combine a top-load washing machine with a front-load dryer in a single, stacked unit to provide cleaning facilities to homes with limited space. You might have occasion to remove the front panel to investigate a problem with the washing machine's motor, shock absorbers or pump assembly. The panels of the laundry center are simple to detach and replace using common household tools. You should be able to complete this task in under five minutes.
Step 1
Locate the gap between the front panel and the underside of the top panel that contains the door to the washer. You will be able to see two clips inside the washer if you look closely through the gap.
Step 2
Insert a putty knife or another flat, rigid tool through the gap and push the clips backward to detach them from the front panel.
Step 3
Tip the front panel forward away from the washer. The clips at the bottom of the panel remain in place. Lift the panel upward to detach the bottom clips and fully separate the front panel.