Tip
When reinstalling the tub ring, you must replace the ring seal. Once the seal is broken, it will leak if reused.
Warning
Unplug your washing machine from the power source and disconnect the water supply before taking it apart.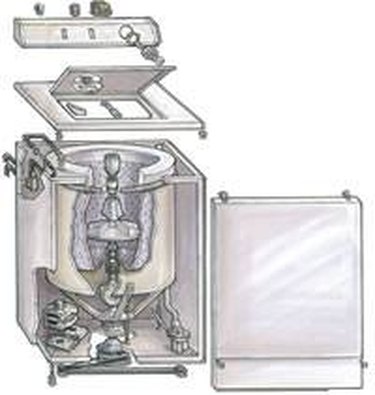 There are a few reasons why someone would want to take a washing machine apart. One reason is to clean scum and scale buildup from the inside. This buildup can cause a foul smell, so cleaning it is imperative. The washing machine comes with many parts. Although it isn't highly difficult to disassemble the machine, it does take a few steps. It is important to remember how the machine came apart so it can easily be put back together.
Step 1
Lift off the end caps which sit on the console by prying them from the back of the washer. Remove the screws under the end caps. Remove the console.
Step 2
Fold the console over to the back of the washing machine. Let it hang in place by the plastic hinges that hold it.
Step 3
Locate the two large brass clips under the console. Release the clips by placing a flathead screwdriver into the clip grooves and pushing them away from you. Also locate and disconnect the lid switch connector plug.
Step 4
Open the lid of the washer and remove the washer casing. The entire case comes out to expose the tub and all the components. Firmly hold the casing located under the front rim of the washer opening. Tilt the casing toward the back and then slide it forward. Lift it up.
Step 5
Tug firmly to release the agitator, or tie a rope around the agitator underneath the unit and pull it out. Remove the doughnut-shaped tub ring from the top of the washtub. Pry up the tabs around the ring with a screwdriver, being careful not to break them. Take out the inner spin basket by removing the spanner nut located under the agitator.