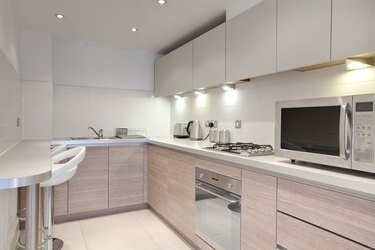 Disposing of an old but safe and functional microwave is pretty simple: drop it off at a donation center like Goodwill. But what should you do with a broken microwave?
According to GE, microwaves do not contain any toxic or harmful materials that would limit their disposal. Therefore, you need to decide if you'd like to recycle your microwave or put it in the trash.
Throwing Away a Microwave
One of the easiest things to do with an old microwave is to put it in the trash. However, depending on your local regulations, microwave disposal may be a little more involved than putting this old appliance in your curbside bin any time you want.
For example, if your waste company has weight or size restrictions or explicitly prohibits putting electronics in the trash, you may need to make alternative arrangements. Many trash pick-up companies require bulky or heavy items to be scheduled for pick-up, whereas others advertise particular days when these items will be accepted. Dropping off the microwave at your local waste disposal plant could be another option.
How to Recycle a Microwave
Depending on your local regulations, you may be able to recycle a microwave. Because a microwave is considered electronic waste, or e-waste, and needs to be handled by special recycling centers. The same recycling plants that accept your plastic, paper or aluminum recycling may not have the ability to process e-waste.
The easiest way to begin is to search for "electronic recycling center near me" and look at the list of accepted appliances. If microwaves are not explicitly mentioned on the website, call the center to ask about their microwave policy. Some will accept microwaves as drop-offs but not as pick-ups. The policies vary from company to company, so be sure to call several companies to find the most convenient option for you.
Ask about any associated fees as well so that you can be prepared to pay for the microwave disposal service. Don't forget to contact your municipal government as well, since many provide free waste and recycling services to residents within city limits.
Manufacturer and Retailer Take-Back Programs
Your microwave's manufacturer may offer a take-back program to help consumers recycle their products. Hamilton Beach is an example of a microwave manufacturer with such a program, but there's a catch: you'll need to mail the appliance to them. Since microwaves tend to be heavy items, it may be cost-prohibitive to recycle your microwave this way. Other manufacturers, like LG, have drop-off sites as well as mail-in programs.
However, microwaves are sometimes excluded from manufacturer recycling programs. For example, GE only recycles refrigerators, freezers, air conditioners and humidifiers.
Retailer take-back programs also exist, where popular stores accept electronic waste. However, be sure to call the store to ask if they accept microwaves for recycling before you make a trip. For example, Best Buy has a long list of electronics or appliances it does and does not accept — and microwaves are unfortunately on the "not accepted" list.