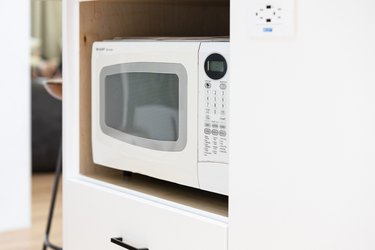 Microwaves typically have a life span that runs about nine years, so chances are high that you'll be faced with the problem of how to dispose of an old microwave more than once. Microwaves can be surprisingly difficult to toss because they have components that are too hazardous for the recycling center and the landfill. They're also too large for the small appliance waste category, which usually includes coffee makers and toasters. And microwaves are wholly separate from large appliances, like refrigerators and freezers, which require different disposal procedures due to their refrigerant chemicals. Rather, microwaves are usually classified as electronic waste.
Although difficult, sustainably removing your microwave is possible if you know where to look. Here's the rundown on the best ways to get rid of microwave ovens and other small kitchen appliances.
How to Recycle Old Microwaves
You may intuitively think that microwaves are a kitchen appliance akin to your refrigerator, toaster, or oven. However, many recycling centers will not accept microwaves as an appliance. The circuit boards that could contain solder made from mercury and lead often make microwaves ineligible for curbside recycling and drop-off recycling.
For example, solid waste services in Atlanta, Georgia do not accept microwaves at any of their recycling facilities, but they do point residents toward drop off for reuse facilities for operable microwaves. Across the country in San Francisco, the city's environment department instructs residents to handle broken microwaves as e-waste.
How Do I Recycle Other Small Appliances?
As for toasters and other small appliances, some places, such as Miami-Dade County, Florida, allow for the appliance to be placed in your trash bin but not the recycling bin. Follow the small appliance recycling guidelines for your area and do not place a small appliance in the recycling bin unless your area's recycling program expressly accepts that method. Always search for your city or municipality's solid waste services and public works department to learn more about the recycling policies.
Donate Small Appliances in Working Condition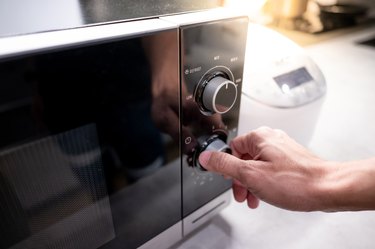 Microwaves and other small appliances can live on in another home as long as they're in working order. Reuse facilities often work with the city so residents aren't needlessly sending working appliances to recycling or waste collection. Before heading to the donation center, remember to check the organization's requirements for eligible donation items and any preparation you need to do; sometimes need to be presented or packaged a specific way.
For example, Lifecycle Building Center of Greater Atlanta will take working microwaves that are less than five years old. Live Thrive is another organization that accepts hard-to-recycle items, including microwaves. Keep in mind that your microwave, toaster, and coffee maker would go to the electronics section, while stoves and ovens would go to the appliances area. Live Thrive requires donors to fully clean and dry their microwave before dropping it off.
Some reuse facilities will charge a fee for drop-offs, and some will waive the fee for local residents. Reach out to your local facility for clarification.
If you're having trouble finding a local community donation center for your microwave and other small appliances, look to a national chain, like Goodwill. The Goodwill website for your region will list the items it's not accepting for donation, and you can always call your closest donation center to make sure they're taking microwaves. Local thrift stores and small businesses are other great places you can donate your old microwave.As always, only donate microwaves in working condition to reuse centers.
Tip
Before donating, send your broken microwave to an appliance repair shop to see if it's salvageable. If so, you may be able to keep your microwave after all.
Throw Away Your Old Microwave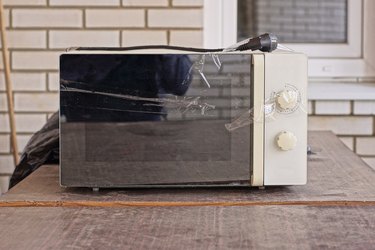 Tossing out the microwave may seem like the simplest option. This route might be necessary if your microwave is in total disrepair and you don't have easy access to a collection center for hard-to-recycle items.
Check your local ordinances and regulations for how to dispose of an old microwave. Many cities consider microwaves to be e-waste, so it's not as easy as tossing it in a dumpster or setting it out with the rest of your household trash on collection day. In Atlanta, for example, a microwave can be picked up as part of bulk waste collection. You'll need to manually schedule the pickup in advance and place the microwave at the curb by 7:00 p.m. the night before.
Microwaves are also considered e-waste in San Francisco, where it is illegal to dump household hazardous waste in landfills for public safety reasons. E-waste must be picked up by a licensed electronic recycling organization for safe microwave disposal.
Retailer or Manufacturer Take-Back Programs
In an effort to reduce the substantial growth of end-of-life electronics waste in the United States, some businesses have partnered with the Environmental Protection Agency to collect nonworking electronic appliances, including microwaves. Before you mail your broken microwave back to the manufacturer, keep in mind that each company has a set of criteria and may require a fee.
Best Buy Haul-Away Program
Best Buy operates a recycling program for free that takes old appliances and electronics off your hands and repurposes them. However, microwaves are not an accepted appliance under this program. Your only option is the Best Buy haul-away program, which has very specific requirements or a hefty fee.
If you have a new microwave delivered and installed by Best Buy home delivery, then they'll also collect and safely recycle or repurpose your old microwave for $39.99.
You may not be in the market for a new microwave but still want to know that your microwave will be properly recycled or reused for parts. You can enlist the Best Buy haul-away standalone service for $199.99. The team will collect up to two large appliances and an unlimited number of small appliances for this flat fee.
GE Buy, Remove, and Replace Service
This program is perfect if you're replacing an old above-the-range microwave or wall-mounted microwave oven. When you purchase the new microwave directly from GE, it will remove the old microwave, install the new appliance, and haul away your old microwave at no additional cost.
This service is available only for over-the-range, built-in microwaves and wall-mounted microwaves. The GE installation team will not haul away or install countertop microwaves or other small kitchen appliances.
In a commitment to sustainability, LG has partnered with several recycling services to create an e-waste solution for people across the U.S. that is tailored to local e-waste regulations. If you own an LG microwave and live near a designated drop-off location, you can transport your old microwave there. Search for local sites using your ZIP code to see if this is a viable option.
For some people, the nearest drop-off site could be a state away and therefore an unrealistic option. LG presents an alternative: the mail-back program. Enter your ZIP code on the mail-back program website to verify that this program services your area. Then, print your free shipping label and send your old microwave on its recycling journey.
Hamilton Beach Nonworking Appliances
When a Hamilton Beach microwave reaches the end of its life, the company will take care of recycling it and giving new life to its recyclable materials. The catch is that the appliance needs to be nonfunctioning, not just old or out of style.
Return the microwave by mailing it to: Hamilton Beach Brands Product Recycling Program, 261 Yadkin Road, Dock 2 - Product Recycling, Southern Pines, NC, 28387.
The downside is that you'll need to pay for the shipping costs, which could run high for a bulky microwave.