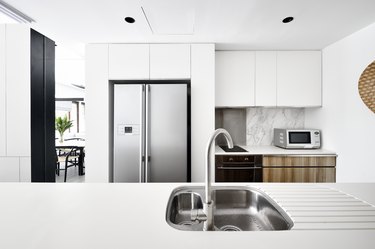 The appliance industry is constantly evolving and improving as science leads to more efficient technology and better ecological footprints, and refrigerators have come the furthest. Fridges made before 2005 present environmental concerns when it comes to getting rid of them, and recycling them with an accredited organization is the prudent thing to do. So, what's the problem with fridges, and who's best positioned to do the most responsible refrigerator disposal?
Tip
The EPA has a program called Responsible Appliance Disposal, and their partner programs are spread all across the United States. It's the best place to start when trying to find an ethical and environmentally friendly disposal solution for your fridge.
Why are Fridges an Issue?
Both refrigerators and freezers have harmful construction and chemicals in them that have been proven to emit greenhouse gases when improperly disposed of. The good news is that it's easier than ever to avoid improper disposal. Whatever you do, don't dump your fridge on the curb and expect your recycling program to deal with it.
Back in the 1990s, it was discovered that CFCs, or chlorofluorocarbons, were ozone-depleting chemicals. After 1995, these harmful chemicals ceased being used in fridges and freezers, and the chemicals used in coolants instead have been hydrofluorocarbon. But, just because these are a better option doesn't mean they're not a problem because they're still greenhouse gases that need to be removed and disposed of in an eco-friendly way. Fortunately, CFC disposal can be done safely by EPA-approved partners.
That's only the tip of the iceberg-maker, however, since fridges and freezers have had foams that can deplete the ozone and release greenhouse gases (particularly before 2005). Then there are other contaminants and hazardous components, like PCBs, mercury and oil. It's also just about being pragmatic, too, since it's not uncommon for older fridges to have as much as 120 pounds of recyclable steel in their construction!
Refrigerator Removal: The Basics
Getting the old fridge out of your place will be a two-person job. If you're unable to do it yourself, many organizations are keen to do it for you, and where you are will affect your options. If you're in New Mexico, for instance, as a PNM customer, you might qualify to have your fridge picked up for free and recycled while getting a $50 recycling payment and maybe even a $125 rebate on a new Energy Star fridge.
The Environmental Protection Agency has partnered with organizations all over the United States to create RAD — Responsible Appliance Disposal. Like PNM, many organizations in the program will pick the fridge or freezer up and recycle or dispose of it in the most ecologically friendly way. Many power utilities offer this service and so do some privately held companies, such as GE, Sears and The Home Depot. To find out who partners with RAD in your region, use the "Find RAD Partner Programs" search tool on the EPA's website.
If your state or region isn't covered by a RAD Partner Program, contact your municipal authorities to find out what your best local options are for large appliance recycling.
It's Not Dead Yet, Though
If your fridge is obsolete but still functioning, you might be able to donate it to a nonprofit organization. Often, they'll pick it up for free and take it to its new home. You're rid of your problem while solving someone else's. Now that's a win-win!