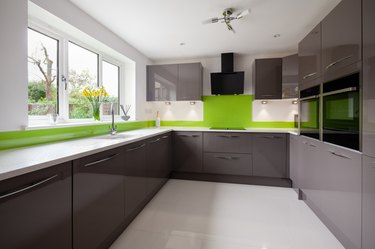 Unlike a traditional oven, which has an included stove, a cooktop is a separate appliance that can mount on top of an existing oven that is built into a cabinet. Cooktops attach directly to the existing counter over the cabinet where the oven is placed, and their installation is usually fairly simple. If you have granite countertops, it is a bit more complicated to install a cooktop, due to the properties of granite and the installation methods for cooktops.
Important Safety Considerations
If you will be installing a cooktop of any kind, be sure that neither it nor an oven located below it is plugged in or connected to gas during the installation process. Unplug the appliances and turn off power at the circuit breaker, just to be on the safe side. In addition, turn the gas off to the cooktop and oven before you get started.
It's very important not to lift any appliance that is too heavy for what you're capable of carrying. Request the assistance of another adult when installing your cooktop, since you will need to lift, maneuver and attach it. The process is not difficult, but it can be a bit cumbersome without help.
The methods outlined here are ideal for working with granite, because granite is very expensive and hard to cut and apply screws to. You won't want to risk any costly mistakes with your granite countertops. In addition, cutting granite requires special tools that the average do-it-yourselfer might not have at home. Putting screws into granite can be difficult and could also break your drill, so using caulk, glue and mounting clips, when applicable, is a far better alternative.
Cooktop Granite Installation Kit
You may be able to purchase an installation kit for your new cooktop. If so, be sure to get one that can be used with granite. You should have acetone, caulk and possibly mounting clips on hand before you get started. Also, be sure you have plenty of rags for cleaning up the adhesives.
If your cooktop does not have mounting clips, you can first clean the cooktop and countertop with acetone to remove dust, dirt and debris. Then, align it with the countertop. Since you won't want to drill into the granite, you should use silicone caulk to adhere it. Datatail advises that you must use a sealant rated for high temperatures.
Place a bead of silicone caulk all around the cooktop and press it firmly into place in the hole on the countertop. You'll need to hold or otherwise fasten the cooktop until it begins to form a seal to avoid movement. Allow the cooktop at least a day to dry before you connect power and fuel to your oven or before you attempt to use it.
Cooktops With Mounting Clips
Some cooktops come with mounting clips. Since you still won't want to put your flush mount cooktop on granite with screws due to the damage that could result, you will ideally glue these mounting clips down.
Then, apply silicone caulk to the backs of the mounting clips, leaving plenty of space for hot glue that you will use to attach the mounting clips. Once it is dry, apply hot glue in the holes of the clips. Press the mounting clips firmly against the granite.
Once the glue and caulk used on the mounting clips are fully dried, you can press the cooktop into the clips. You should still wait at least a day before hooking up power or fuel to the cooktop so the entire assembly can set.