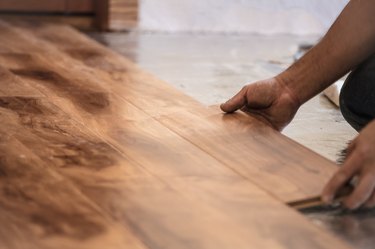 Laying laminate flooring on uneven concrete can cause buckling and loose boars as the floor settles into its new installation.
The floor can have an unlevel subfloor and still have a base for a nice laminate floor. It's a bit confusing, but a flat floor can still be slightly out of level and still create a good foundation for a long-lasting floor installation. Laminate flooring on an uneven subfloor can cause problems and needs to be addressed.
How to Check Subfloor Flatness
Most subfloors are a little uneven and can be fixed with minimal work. However, if you have seriously uneven floors, you may need to have a professional come in and check out your foundation for bigger problems.
To test for the flatness for laying laminate flooring on an uneven subfloor, lay a 10-foot long 2x4 board. Look at the board where it touches the subfloor and see if there are any dips, bumps or otherwise uneven areas. These hills and valleys will eventually lead to unwanted bouncy spots, squeaks and groans in the final laminate floor.
Why Even Matters for a Subfloor
All that noise a floor makes comes from one main reason. A floating floor on an uneven subfloor will eventually create loud pops and knocks as you walk across the surface. This is due to the pressure applied on the top of the flooring when it meets pockets of air beneath the surface caused by the unevenness of the subflooring.
A well-installed engineered wood floor shouldn't make a peep as family, loved ones and four-legged friends tramp across the surface day in and day out.
The maximum laminate flooring level tolerance on a subfloor is 3/16 of an inch over a 10-foot span. If you have any hills or valleys that are more than that, then you have an uneven subfloor that needs to be corrected.
Correcting an Uneven Concrete Subfloor
Screening is the best way to correct a concrete floor with serious dips and bumps more than 3/16 of an inch in either direction. To do this, both the high and low spots need to be addressed when looking to install laminate flooring on uneven concrete.
The low spots need to be filled in with a mix of fresh concrete before installing flooring on uneven subfloor. Level these off to create a smooth and flat area that are even with the surrounding hills. Lay a 2x4 board down when the concrete has dried to ensure you have addressed all of the issues.
Continue this process until the floor is relatively flat with no dips or bumps more than 3/16 of an inch in size beneath the leveling board that you are using.
Correcting an Uneven Wood Subfloor
If you have a wood subfloor with serious hills and valleys that need to be corrected in order to create an even surface, then you are in luck. These imperfections can be sanded down to create an ideal surface before installing the floating wood floor.
Use an 80-grit sandpaper to start and move on to 120-grit sandpaper until you have a smooth surface to begin laying down the flooring.
Floating Floor on Uneven Subfloor
Run the laminate wood boards from the entrance of the room to the back and perpendicular to the walls. This is often called a bowling alley installation. Lay the first plank against a corner wall. This will offer a firm foundation for the insulation.
The board's tongue should be facing the side that is against the wall. Snap the second plank into the groove that is facing the room. Stagger the boards as you make your way across the room. Keep the joints less than 12 inches apart and cut edges clean of dust whenever you resize a board.
---
Kimberley McGee is an award-winning journalist with 20+ years of experience writing for a variety of clients, including The New York Times, Las Vegas Review-Journal Home section and other national publications. As a professional writer she has researched, interviewed sources and written about home improvement, interior design and related business trends. She earned a B.A. in Journalism from the University of Nevada, Las Vegas. Her full bio and clips can be viewed at www.vegaswriter.com.