Remodeling a kitchen is a costly home renovation, in addition to being a time consuming endeavor. The look and feel of hardwood floors in a kitchen is a great aesthetic improvement to a property, but having to remove cabinetry to complete the project can be a difficult undertaking. Because of this, some homeowners opt to install hardwood flooring around already installed kitchen cabinets. With proper know-how and preparation, a kitchen doesn't have to be dismantled to achieve a hardwood aesthetic.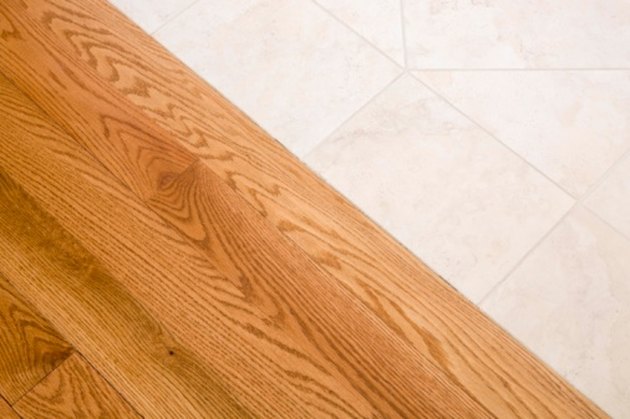 Step 1
Prepare the subfloor or existing floor. The surface should be clean of debris, swept and mopped adequately. If vinyl flooring is the pre-existing floor, hardwood kitchen floors can be installed over the existing flooring without the need for removal, because hardwood floors float above it. If the existing floor is tile, hardwood or laminate. however, demolition and removal of the existing floor is necessary. In these cases, the flooring and adhesive materials need to be removed completely before the underlayment for wood flooring is ready to be set in place.
Step 2
Use a tape measure to measure around the cabinets to estimate the required materials for hardwood flooring and quarter-round molding. A quarter-round molding may be required to accommodate difficult angles or cuts around existing cabinets, and measuring for materials required is crucial. This can eliminate the need to replace or repair toe kicks around cabinets.
Step 3
Examine appliances to anticipate the look and feel of the kitchen when appliances require replacement. The trick here is to anticipate a few inches difference in a refrigerator, dishwasher or freestanding range, so that any old flooring or subflooring will not be exposed when these items are replaced. The best advice is to install the wood flooring a few inches underneath existing appliances to accommodate any future changes.
Step 4
Install the hardwood flooring according to the manufacturer instructions. In many cases, the floorboard will need to be glued to the existing toe kick for cabinetry in order to stay in place. In some areas, it may be necessary to install a quarter-round molding next to or by existing toe kicks for cabinets in order to maintain a uniform appearance. This is most common around areas where cuts are difficult, such as a wall near a refrigerator. It is important to use extreme caution and attention to detail when installing flooring around or adjacent to cabinets in order to avoid scratching or damaging any elements already in place.