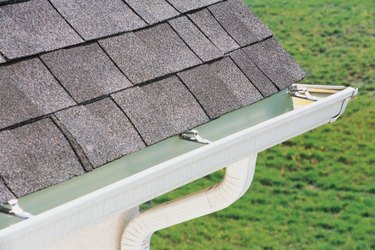 Many homes have asphalt- or fiberglass-based shingle roofs. When a homeowner changes the house color it can make the older, but still in good condition, roof look awkward. Rather than change a perfectly good shingle roof, you have the option of changing the color of the roof. The roof needs to be in good condition and cleaned of all debris, mold, mildew or other problems. Once the roof is clean, changing the color can be done over several days.
Step 1
Wash the roof thoroughly to remove dirt, debris and mildew or mold. Use soap and a mildew and mold product and scrub areas with a stiff broom. Rinse with a hose and wash down all debris until the roof is clean.
Step 2
Mask off, tape or cover all vents, chimneys or other roof fixtures you do not want to paint. Add a protective strip of tape-edged paper along all roof edges. Spray a roof primer paint on the shadow side of the roof starting at the top and working down the roof to the taped off edges. Check the manufacturer's instructions for temperature and moisture before painting. Allow the primer two days to dry.
Step 3
Paint a coat of roof mastic from the same roof paint manufacturer. Typically, you will only need one coat of each product for good coverage unless there are other problems such as temperature or humidity affecting the paint. Paint the shadow side of the roof so that you are not painting in direct sunlight. Paint one side during the morning and a different side during the evening. Allow two days for the mastic to dry.
Step 4
Spray a coat of roof paint from the same manufacturer. You can have custom colors mixed, but it is important that your primer, mastic and paint are all the same base and mixture so they adhere to each other properly. Allow the paint to dry for two days. Remove your masking materials.