Pine is a softwood that flourishes throughout the Northern Hemisphere. Its availability has made it one of the most affordable building materials. With a variety of applications that include paper manufacturing, moldings, construction lumber, furniture, floors and cabinets, pine could be considered one of the most widely used domestic softwoods on the market.
White Pine and Yellow Pine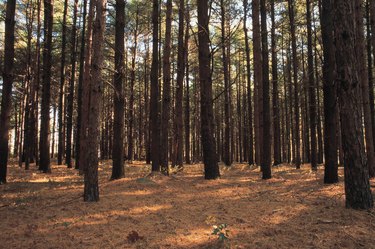 Much of the pine used in the United States comes from two species; white pine and yellow pine. On the Janka scale, which is used to measure the hardness of wood, Eastern white pine rates very low at 380. Southern yellow pine is harder at 870. In comparison, red oak measures 1,290 on the scale.
About Plywood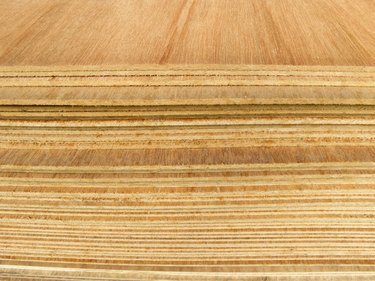 Pine is somewhat plain, with little grain pattern. It's amber colored, with some streaks of brown. For this reason, most woodworkers choose knotty pine for cabinets, trim and special projects. Knotty pine is full of knots, swirls, defects and color variations. It's perfect for cabinets, furniture and trim with a complex array of features that add character to the project. Most cabinetmakers rely on plywood to build cabinets. However, pine plywood can be expensive and hard to find. Many cabinetmakers and furniture builders glue solid pine panels together, in lieu of plywood, to build cabinets. Others use fir plywood -- which is readily available and cheap -- combined with pine lumber to build face frames for cabinets. Fir plywood has grain patterns and color very similar to pine, and is often mistaken for pine.
Moldings and Trim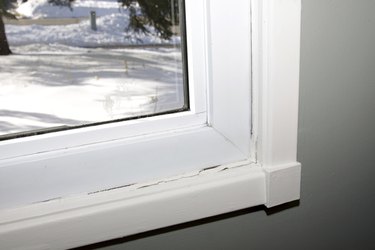 Pine is used prolifically as a trim product. It's used for window and door frames, baseboards, cabinet trim, fascia, profiled moldings such as chair rail and picture frame, crown molding and brick mold. The flexible, resilient quality of pine molding allows it to bend slightly to fit imperfections and crooked walls. Nails penetrate pine molding easily, and it's easy to patch, sand and finish. Pine molding and trim is often considered paint-grade, due in part to its cheap price and the fact that it takes paint well. Stain, oils and clear finishes also are used on pine molding, evoking a rustic appearance when used throughout the home, especially when pine cabinets are installed.
Decks and Structural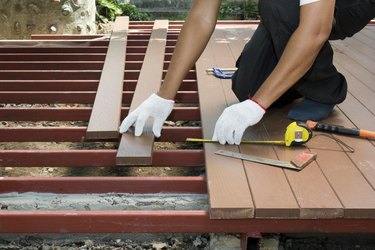 Pressure-treated pine is plentiful and one of the most affordable options for deck building. It has a projected lifetime of about 15 years if treated every two years with water repellant. As economical as it is to use pressure-treated pine for decks, however, problems such as checking -- small splits -- and splintering common to pressure-treated pine should be taken into consideration. Other health-related issues involve chemicals used in the treatment of the wood and require breathing protection during the building process. After the deck is assembled and sealed, chemical exposure is not an issue. Some builders use pressure-treated pine for all the framing, due to its moisture-resistant nature, and use a different product such as a composite for the deck boards. Pine for exterior use that has not been previously pressure-treated is not recommended without regular treatment with products that seal out moisture. The use of structural pine for use in framing is widespread and is comparable in cost to fir.
Fooring
Pine flooring adds warmth to a home. It's relatively soft, without the brittle feel of other hardwoods. Pine flooring typically comes in tongue-and-groove planking in differing grades. Clear or prime pine planking has few defects. It's also somewhat characterless. Lower grade flooring may actually look better with knots, swirls and color variations. When selecting pine boards with defects, pay close attention to the knots. Most of them are tight and will not move or rattle when tapped on with a block or mallet. Reject any boards with knots that fail this test.