Pine floors add a rustic, yet elegant touch to any home. Though pine is one of the more inexpensive hardwood flooring options, the knots that are synonymous with this type of wood make it so each homeowner's floor is unique.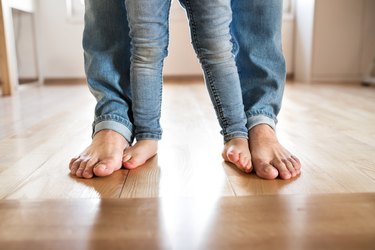 Don't let the name "hardwood" fool you. Pine and other woods are easily scratched and scarred by dirt and dust. Floors that aren't cleaned regularly can also lose their luster. Like all hardwoods, pine floors require regular maintenance and upkeep to keep them looking warm and glossy.
How to Clean Pine Floors
Foot traffic or moving furniture on floors can embed dirt or cause scratches to the surface. Regular dusting will help floors maintain their luster. To keep pine floors looking fresh and new, keep them well-dusted and dirt-free. Use a dusting mop often to remove surface dirt for a quick, every day cleanup. Once or twice a week, use a vacuum to pick up harder to remove dirt from the nooks and crannies in the boards and between floorboards.
Washing Pine Floors
Wash your pine floors to keep them clean and shiny. Be sure to use a mild soap that's wood floor-friendly. Avoid using any chemicals that can remove the finish from your pine floors or cause them to burn.
Use a slightly damp mop to gently clean away the dirt. Water will stain a pine floor, so the mop shouldn't be so wet that it causes drips and puddles. If there is a stubborn stain, use a slightly damp sponge dipped in the soapy water and apply pressure to remove the stain by hand. Don't use an abrasive material to clean wood floors as they can cause scratches or remove the floor's finish.
Once the floor is washed, allow it to air dry and carefully replace any furniture.
Taking Care of Your Pine Floors Between Cleaning
Dust and vacuum your floors regularly to remove any loose dirt to keep it looking like new. Avoid wearing shoes that can cause marks in the floor, such as a high heel or shoes with taps or metal on the bottom. An area rug can protect a bare floor from dirt and damage caused by footwear or furniture.
Use casters with felt bottoms on furniture legs so they don't scratch the floors. If you have to drag something across the floor, be sure to put down protective materials. If water or liquid drips on to the floor, wipe it up as quickly as possible to avoid staining. Avoid spraying water, chemicals or paint over a pine floor.
As the finish on your floor wears away, refinish them for continued protection.