Things You'll Need
All-purpose household lubricant

Quiet-close toilet seat

Padded toilet seat

Fabric toilet cover set

Rubber bumpers

Flat-head screwdriver

Pliers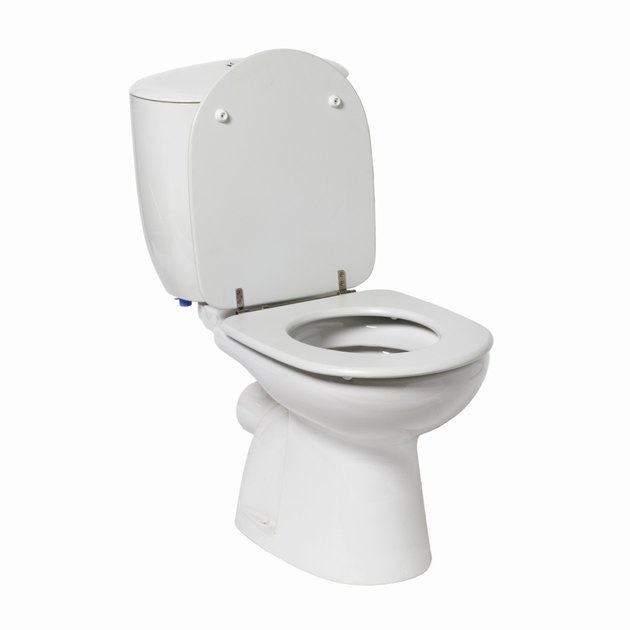 Toilet seats come in a variety of styles, all intended to offer comfort for the user. Companies that manufacture toilet seats address consumer issues such as style, warmth and softness. In addition, consumers don't like noisy toilet seats, whether the noise comes from squeaky hinges or the discordant slap of the lid as it hits the ring when closing. There are several solutions that enable a toilet seat to close quietly.
Step 1
Apply a touch of all-purpose household lubricant to the toilet hinges when they begin to squeak. Work the hinges back and forth until the squeaking stops.
Step 2
Invest in a toilet seat that has a quiet-close mechanism. These seats lower slowly, both lid and ring, eliminating the jarring bang that comes from the force of gravity.
Step 3
Choose a padded toilet seat to muffle the sound of the lid closing. This type of seat not only closes quietly, but it also provides a somewhat warmer seat that's welcomed in the winter months.
Step 4
Cover the toilet-seat lid and ring with a fabric cover. The fabric keeps the lid from closing loudly. Sets such as these are removable for washing.
Step 5
Install new bumpers using a rubber-bumper replacement set. A set of round rubber bumpers goes on the underside of the lid, and a set of rectangular rubber bumpers goes on the underside of the ring. Primarily used to stabilize the seat so it doesn't shift or pinch, rubber bumpers also muffle the sound of a lid or ring closing too fast.
Tip
Remove the old seat by opening the bolt covers. There are two, one on each side at the back of the seat unit. Hold the nut underneath as you unscrew the anchoring bolts with a flat-head screwdriver. You may need to hold the nut with a pair of pliers. Lift off the old seat and install the new seat, using the hardware that comes with it.
---
In 2007 Nannie Kate discovered that the words she had been writing all her life had an actual cash value. She's been writing professionally through brokers ever since. With an English major background she creates articles and ebooks on a wide variety of subjects.