Headboards, footboards and legs are all well and good, but it's the part of the bed that's hidden out of sight that truly keeps us from curling up on the floor below. This is the network of slats that cross the frames at equally spaced intervals, supporting the mattress and allowing us all a good night's sleep. But increasingly, there are folks who prefer to try out other types of beds, ones where the foundation isn't comprised of these durable wooden boards. For these sleepyheads, there are a few options available.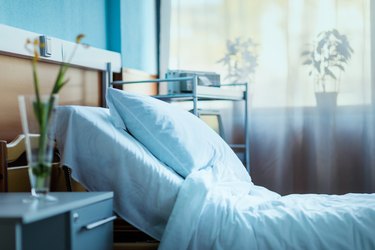 Plat Over Slat
One popular choice is the platform bed, which comes in many varieties. While some are indeed slatted, many instead promote a solid framework. Because of the raised nature of these beds, a box spring is not needed underneath the mattress. Many consumers prefer the solid platform bed because it's visually more dynamic in appearance, as the mattress often sits lower to the ground and is more likely to expand beyond the frame. Additionally, solid platform beds frequently allow for more storage space underneath — a great benefit for those seeking somewhere to hide their clutter.
Ply Your Trade
Foam mattresses tend to work better on solid platform beds than slatted beds, and the same rule applies to another popular alternative. Plywood beds are similar to solid platform beds in that they similarly offer one solid, seamless rectangle of wood on which to rest a mattress. They are also popular with folks who don't like to assemble their beds, as many are crafted as one single, solid block of wood. Plywood beds are admittedly harder and less flexible than slatted beds, but for those with back problems who need the extra firmness and support, they might be just what the doctor ordered.
Dream Weaver
If you're feeling energetic and in a DIY mood, you might consider creating your own rope bed. Rope beds were reportedly popular in the days of yore (and, according to urban legend, so were bone beds, but we'll pass on that one), so anyone seeking to emulate the pioneers of the past will find this a sound option. Rope beds create a weave much like a hammock. Unlike a hammock, the weave is so tight that a mattress can securely rest on top, creating an even sleeping surface. There are many different ways to tackle this project — some employ a wood frame while others opt for metal; some weave the ropes while others merely nail down the strands. There are several videos that offer step-by-step instructions, so find the one that most strikes your fancy. And if the project ends up being too overwhelming, rest assured that there are some manufacturers selling already assembled rope beds.
---
Nat Howard is a writer, editor, journalist, and jack-of-all-trades, covering topics from home improvement and design to healthcare and career advice.