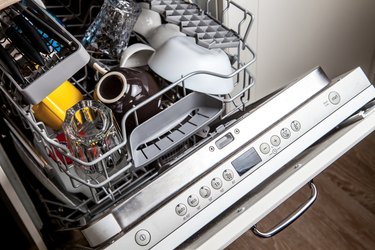 The problem with dishwashers is that owners tend to become complacent and lower their guard about cleaning the machines. Unfortunately, the dishwasher is the ideal incubator for bacteria and fungus. They're generally not hazardous to your health, but if you've got loved ones who have compromised immune systems, there is a small chance it could be a problem for them. If your Samsung dishwasher smells, maybe it's time to put the kibosh on the source of those funky odors.
Cleaning Samsung Dishwasher: First Steps
Samsung advises homeowners not to use bleach to clean the interior of their dishwasher, since they're usually stainless steel, and bleach can damage and/or discolor the steel finish. This is also why you shouldn't run a bleach cycle in your dishwasher, since bleach can cause more problems than it solves.
Remove anything that can come out — from racks and baskets and nozzles to the filter, depending on whether that's possible with your Samsung dishwasher model. Check your user's manual if you're unclear on whether the Samsung dishwasher filter assembly can come out. If you don't have the manual, Samsung has an online searchable database where you can search the manual by type or model number, then download it for free.
With everything pulled out, now you can tackle the odors and bring a whole new world of clean to your dishes. You'll need warm, soapy water, clean rags, maybe some toothpicks or a needle and white vinegar to do the job right. Fill your sink with warm, soapy water too, so you can wash all the removable parts thoroughly before you replace them in your machine.
Samsung Dishwasher: Sanitize the Stench
Start near the drain housing and remove any collected debris. Clean the area well with the soapy water and rag and be sure you take apart the filter (if you're able to do so with your model) and clean each part thoroughly.
Find all the nozzles. Clean them, but also inspect all the tiny holes — you may need that toothpick or needle for clearing the holes of any gunk or debris. Simply poke the debris out and clean with the soapy rag after.
If you've got significant slime in the unit and you've cleaned it with warm water, it may be time to try a cleanser stronger than soapy water. You can still use vinegar to give the interior a wipe after it's been soaped and cleaned. This should help sanitize things.
The door seal needs to be cleaned with a rag soaked in white vinegar. This is where lots of fungus and bacteria like to live, so be thorough in cleaning the rubber seal. Clean the bottom of the door, inside the door and where the door meets the dishwasher housing too, with either vinegar or warm, soapy water.
When You're Through
After everything's been cleaned, wash all the components that you removed from the dishwasher in warm, soapy water. Dry them and return them to where they belong. After, you can put the finishing touches on by running a self-clean or normal cycle per your model's suggested method, but this isn't essential.
To help prevent slime and other odorous funk from occurring in the future, be sure to leave the dishwasher open a little after each cycle so it can dry out. Be aware that storing dirty dishes in the dishwasher until you do a load can cause odors to linger too, so you may want to rethink when and how you load the machine.