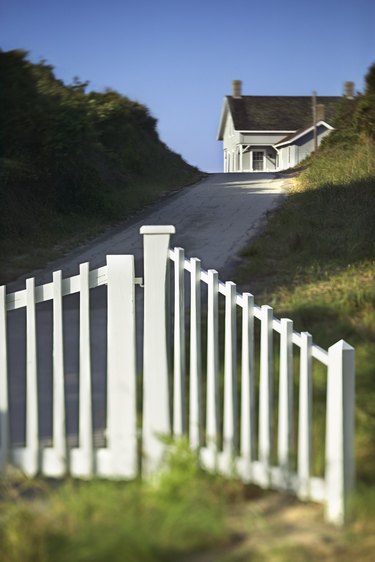 Owning a hillside home is a common dream. It may be pleasant to imagine sitting on your terrace with an iced tea in hand, gazing over a panoramic view of the city below. However, don't be blinded by the beauty. It is important to consider the disadvantages as well as the advantages before investing in your castle on the hill. You may decide the added costs and maintenance are not worth the view.
Accessibility
Consider accessibility prior to purchasing the lot. If you live in a climate that experiences heavy snowfall, a steep driveway could be difficult to access in winter. Many hillside homes and yards have many stairs to accommodate the slope. Consider your age, health and ability to routinely climb the steps. Remember, groceries do not carry themselves. Talk with your contractor before you build. Discuss any potential ramifications the hillside may have in dollars and cents. Be aware of any additional costs you may incur if the heavy equipment has difficulty accessing the site. For instance, it may cost more to have concrete pumped to the site instead of poured.
Drainage
A new construction will be built to local code with proper drainage in place. However, the job does not end there. It is the homeowner's responsibility to maintain and repair any drainage issues. This is especially important on a hillside where improper drainage increases the potential of a mudslide. Routinely check your gutters and downspouts. Walk your land and inspect your terraces and hillside for loose dirt or signs of erosion. Make sure your drains are clear and free of obstructions and encourage your neighbors to do the same. Their drainage problems may become yours.
Landscaping
A hillside lot provides many landscaping challenges. Of course, you want to preserve your view, but consult a professional arborist before cutting down those pesky trees that obscure your scenic lookout. Mature trees have massive root systems that hold the soil in place. Removing them may make the area vulnerable to a mudslide. You may be able to cut back and thin the canopy without compromising the soil's integrity. Consider installing several short terraces instead of one or two large ones. This will preserve the slope and lessen the threat of a slide. Hire a landscaper with experience in slope design or consult your local university agricultural extension office for a list of plant suggestions.
Natural Disasters
Consider the area's climate before building a hillside home. An area accustomed to heavy rains may be more inclined to suffer mudslides. Hillside homes are more vulnerable to catastrophic events such as earthquakes, tropical storms, tornadoes and wild fires. Make sure your home is constructed with these possibilities in mind. Proper precautions may minimize damages and save lives.